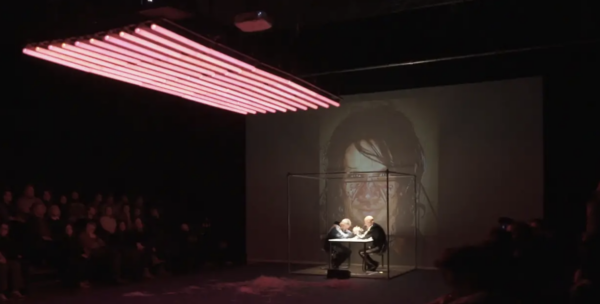 EDGE OF THE PRESENT WORKSHOP PARTICIPANT CALL OUT
WHAT
Edge Of The Present is a new arts project about suicide and imagining the future, led by artists Alex Davies and JR Brennan. The finished work will be presented at The Big Anxiety 2019, a festival that brings together artists, scientists and communities to question and re-imagine the state of mental health in the 21st century: thebiganxiety.org
One of the project's central aims is to use Virtual Reality as a creative approach to countering suicidal thinking. Instead of focusing directly on suicide, the project aims to draw on knowledge and experience of suicide survivors (or those with previous experience of suicidal thoughts) to encourage curiosity and productive ways to imagine the future.
YOU ARE THE EXPERT
We are seeking men of all ages with lived experience of suicide (for example, prior experience of suicidal thinking or of a suicide attempt) to participate in the development of this work, which will provide a safe and engaging way to explore the complexity of suicidality. You will be engaged formally as consultants, collaborators and writers in a workshop led by artist JR Brennan. No prior arts expertise or training is required.  
WORKSHOPS
WHEN: Thursday September 27 – Friday 19 October 2018. The workshop takes place on Thursday and Friday each week for four weeks.
WHERE: Seymour Centre (City Rd & Cleveland Street Chippendale) and UNSW Art and Design Campus (Oxford St & Greens Rd) Paddington.
Some flexibility around dates can be negotiated, so get in touch to discuss!
The workshops will involve working with Virtual Reality headsets, group discussion, creative writing, brainstorming, storyboarding and role play. Facilitators of the workshop are committed to creating a safe, supportive, and stimulating atmosphere as a platform for creativity and discussion.
The workshop will involve discussing issues around suicide. Participants will not be required to share their own stories. Let us know when you contact us of anything you may not want to speak about and we make sure we follow your advice on this.
IMPORTANT NOTE: The workshops are not intended to provide therapy or support for those in crisis. This is a professional engagement, drawing on your background experience. Whilst we will work with you to ensure that personal risk is addressed and managed, providing access to mental health professionals/advice, we will require confirmation that it is safe for you to undertake the workshop and that you are not currently at risk. This may entail sign-off from a clinical professional.
PAYMENT
Participants will be paid for their involvement.
ARE YOU INTERESTED?
If you are interested in taking part in the workshop or would just like to find out more please contact JR Brennan directly at jamesrobertobrennan@gmail.com by Friday 24 August 2018.
WHO ARE THE ARTISTS
Alex Davies is an award winning Australian media artist whose practice spans a diverse range of media and experiments with interaction, technology, perception, mixed reality and illusion.
JR Brennan is a director, performer and composer based in Hobart. His most recent project The Chat is a performance work created and performed by artists and ex-offenders. https://vimeo.com/136059538
Ashley Dyer is a performance maker, workshop facilitator and producer. His interdisciplinary practice extends across more traditional art forms, often integrating tools from dance, new music, visual art, and performance.
[Image Credit: 'The Chat' by JR Brennan. Photo by Bryony Jackson]