19 Aug 2022 — 10 Dec 2022
FREE EVENT
RMIT Design Hub Gallery: 19 August 2022 – 8 October 2022
Level 2, Building 100
RMIT University 
RMIT Gallery: 21 September – 10 December
344 Swanston Street
Melbourne 3000
TIMES
Tuesday to Friday: 11am – 5pm
Saturday: 12.30pm – 5pm
Sunday: Closed
Monday: Closed
Archives of Feeling explores the various ways that artists and communities transform lived experiences of trauma into new archives of knowledge and feeling.   
Image: Jude Worters, Malajusted (Hiding), Digital Photograph, 2021
About
The complex repercussions of traumatic experiences, whether collective or individual, are often feelings we navigate alone. Archives of Feeling imagines new ways of sharing the felt dimensions of trauma. In this exhibition, artists share personal connections, lived experiences and the impacts of trauma on themselves and their communities. Collectively, they form an archive of works that navigate the trauma of institutions, colonialism and isolation.
Combining creative practice with socially-engaged models of community collaboration, Archives of Feeling transforms the gallery into a living, growing and sensorial archive of feelings, encouraging us to explore, learn and unlearn. Spanning RMIT Gallery and Design Hub Gallery, this exhibition presents practical and thought-provoking resources for living with trauma, offering new ways of archiving experience and of experiencing archives.
Archives of Feeling: Trauma, Knowledge, Empathy
RMIT Gallery
Dates: Wednesday 21 September 2022 to Saturday 10 December 2022
Projects and artists: Rushdi Anwar, Peta Clancy, Maree Clarke, Graeme Doyle, UNSW fEEL Lab, Julie Gough, Jenny Hickinbotham, Brian McKinnon, Rebecca Moran, Dominic Redfern, Mariela Sancari, T Collective (Simon Crosbie, Mig Dann, Yi-Won Park, and Jude Worters) and Julie Watkins.
UNSW fEEL Lab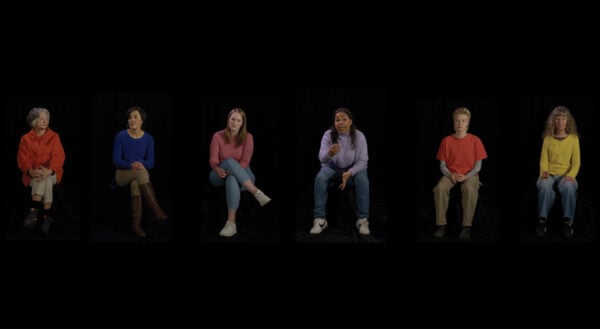 T Collective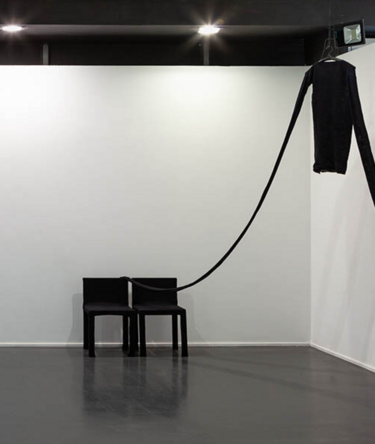 Collectively produced by: Kelly Hussey-Smith, Grace McQuilten, Helen Rayment and Andrew Tetzlaff, and with the support of Jill Bennett, Renata Kokanovic and a community advisory.
Archives of Feeling: Sensation, Connection, Community
RMIT Design Hub Gallery
Dates: Friday 19 August 2022 to Saturday 8 October 2022
Projects and artists: Che-Wei Chen, the Children's Sensorium (Tamara Borovica, Heather Hesterman, Fiona Hillary, Larissa Hjorth, Live Particle, Philip Samartzis, Anna Schwann, and Hiromi Tango, with leading artistic direction from Boonwurrung elder N'arweet Carolyn Briggs, and design by Anthony Clarke), Ngaanyatjarra Pitjantjatjara Yankunytjatjara Women's Council Aboriginal Corporation, the Nurses and Midwives Art Exchange (The Nurses and Midwives Art Exchange includes works by nurses and midwives who have worked through the pandemic accompanied by works created by local artists, with public programming by Ruth De Souza) and Thembi Soddell.
Children's Sensorium
Ngaanyatjarra Pitjantjatjara Yankunytjatjara Women's Council Aboriginal Corporation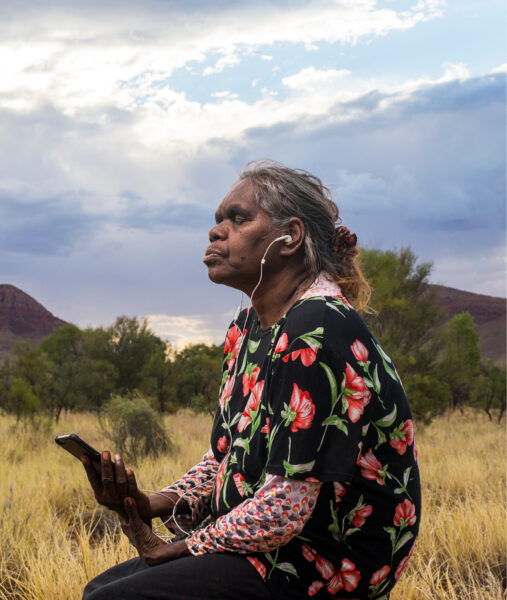 Nurses and Midwives Art Exchange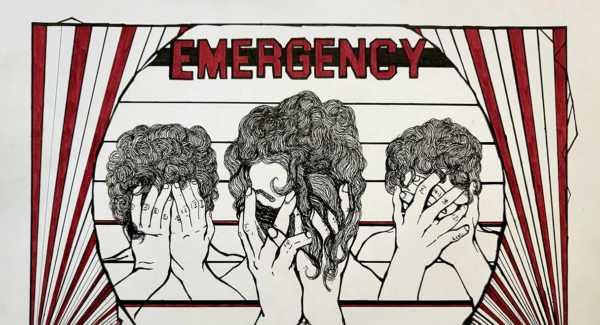 Collectively produced by: Kelly Hussey-Smith, Grace McQuilten, Helen Rayment and Andrew Tetzlaff, and with the support of Jill Bennett, Renata Kokanovic and a community advisory.
Artist Biography
Rushdi Anwar
Rushdi Anwar is a visual artist, researcher, silent activist, community engager and social equity seeker, living between Melbourne, Australia and Chiang Mai, Thailand. Anwar is originally from Halabja, Kurdistan-Iraq. He holds a Master of Fine Art (2010) and a Doctor of Philosophy in Art (Ph.D., 2016), from the School of Art at RMIT University, Australia and is currently a lecturer in the Faculty of Fine Arts, Chiang Mai University, Thailand. His numerous solo and group exhibitions include recent presentations at the Biennial of Casablanca, Morocco (UPCOMING); Bangkok Art Biennale, Thailand (2020); and Havana Biennial, Cuba (2019). 
Tamara Borovica
Tamara Borovica (she/her) is an academic, creative artist, and embodiment and creative movement practitioner. Borovica's expertise is in embodied and arts-based methods for participatory research inclusive of non-normative ways of knowing. Her practice includes creative movement and embodiment programs for various audiences to explore links between movement, embodiment, creativity, belonging and well-being. Her interests traverse intersections between dance, philosophy, arts, psycho-social sciences and creative practice in the everyday. 
Che-Wei Chen
Che-Wei Chen's practice reflects upon the complexity of mental health issues, subjectivity and contemporary conditions. He explores the boundaries between reality and fiction through multiple perspectives within complex structures and narratives. Chen's work not only reveals the repressed collective unconscious, but also re-examines the power and political structures underlying the social system. He also addresses issues of postcolonialism, modernity, classification and biopolitics. 
Anthony Clarke
Anthony Clarke is an architect, university lecturer, and PhD candidate. Anthony established BLOXAS is 2010, a practice for empathic and experimental architecture. BLOXAS is led by research, experimentation and curiosity. These elements are inherent in the practice's philosophy, driving an interrogative and empathetic response. Specialists from a variety of disciplines contribute to BLOXAS' curative understanding of individual and collective behaviour, sensory perception, physiology and phenomenology. BLOXAS investigates how people affect—and are at the effect of—its designs. 
Maree Clarke
Maree Clarke is a Mutti Mutti, Yorta Yorta, BoonWurrung woman from Mildura in northwest Victoria currently living and working in Melbourne. She is a pivotal figure in the reclamation of southeast Australian Aboriginal art practices and a leader in nurturing and promoting the diversity of contemporary southeast Aboriginal artists. Her continuing desire to affirm and reconnect with her cultural heritage has seen her revivification of the traditional possum skin cloaks, together with the production of contemporary designs of kangaroo teeth necklaces, and river reed necklaces, alongside multi-media installations of photography and video work.
Simon Crosbie
In 2017 Simon Crosbie commenced his PhD in the School of Art at RMIT University. His project: 'Trauma, dissociation and the boarding school experience' draws upon personal experiences of child abuse at a Catholic boarding school. The primary challenge in this project involves a process of articulating aspects of memory and affect that are complex, fragmented and sometimes unintelligible. This project explores the use of textiles to evoke memory. Crosbie has exhibited extensively and recently presented at academic conferences in Palermo, Vienna, Dubrovnik and Edinburgh. 
Mig Dann
Mig Dann is a Melbourne / Naarm-based artist, writer and researcher, whose practice is multidisciplinary and autobiographical. In 2022 she completed her practice-led PhD in the School of Art at RMIT University. Dann's work is informed by memory and forgetting, absence and presence, feminism, queer culture and decades of lived experience. She explores the politics of memory, time, identity and personal cultural history through sculptural forms. 
Peta Clancy
Artist Peta Clancy gained a BA Fine Art and an MA Media Arts at RMIT University. Through her photographic work she explores hidden histories of colonisation. In 2018 she was awarded the inaugural Fostering Koorie Art and Culture grant from the Koorie Heritage Trust. For this project Clancy collaborated with the Dja Dja Wurrung community to create a body of work investigating massacre sites on local country. Clancy is currently a Senior Lecturer at Monash University's Art, Design and Architecture Faculty. 
Bec Moran
Bec is a criminologist who focusses on complex trauma: particularly the trauma of child sexual abuse. Her PhD explores 'survivor missions' and the ways that people healing from trauma might find recognition and drive social change through social action and public testimony. Bec is interested in the personal and the political, as well as social justice, dignity, service reform, and recognition for marginalised groups, including trauma survivors and older adults. Bec also has a long history as a mental health and justice reform advocate/activist, including utilising her lived experience of complex trauma to assist in teaching and training about trauma, with the aim of facilitating transformative learning experiences. 
Julie Gough
Julie Gough is an artist, writer and curator based in Hobart. Her art/research often uncovers and re-presents conflicting and subsumed histories. Her (Briggs-Johnson-Gower) family have lived in the Latrobe region of Lutruwita (Tasmania) since the 1840s, with Tebrikunna their northeast Trawlwoolway Traditional Country. Publications include Tense Past (Tebrikunna Press, 2021), Fugitive History (UWA Press) and Shale (A Published Event), both 2018. Gough's artworks, held in many national collections. Recent exhibitions include Rīvus, Biennale of Sydney, 2022; Tarnanthi, Art Gallery of South Australia, 2021 and Eucalyptusdom, Powerhouse Museum, 2021. 
Heather Hesterman
Heather Hesterman is an artist/educator/researcher based in Naarm/Melbourne interested in the intersections of plants, people and places. Her practice is informed by research in climate change, history and plant studies. With a background in print, installation and landscape design, Hesterman activates spaces through plant-human relations, aiming to foster 'vegetal-love' through gifting, walking practices, mobile devices, collaborative acts and conversations. Reflecting upon plant methodologies, she encourages humans to increase 'botanical literacy' by slowing down and becoming attuned to the vegetal beings upon whom humans rely for survival. 
Jenny Hickinbotham
Jenny Hickinbotham's work encompasses writing, video, sculpture, and songs. Laced with humour, pathos and searing critique, Hickinbotham's songs are informed by childhood experiences. Growing up she was diagnosed with developmental trauma and complex post-traumatic stress, which culminated in the schizophrenia label in early adulthood. The artist has 'heard voices' for most of her life and her work explores her ongoing struggle to challenge the institutional pathologising of these experiences. Understanding these internal voices, listening, giving meaning to them, singing them, and considering their relation to the ghosts of the past and present, is a preoccupation of her work. 
Fiona Hillary
Fiona Hillary is a Melbourne-based artist working in the public realm. Her passion lies in site specific practices and the human/non-human relationships that reveal themselves across time. Exploring scale through publicly shared moments of awe and wonder to more personal and intimate encounters, she asks us to consider who and what we are in the process of becoming? Working with site, neon, sound, human and non-human companion species, her work focusses on temporary, fleeting encounters in and of the everyday. Hillary has made and curated permanent, temporary, collaborative, performative works for a range of commissioning organisations. 
Brian McKinnon
Brian McKinnon was born to an Amungu mother and Wongai father and grew up in a Geraldton fringe camp named Blood Alley at the foot of Mount Misery. McKinnon left home at the age of twelve to work along Western Australia's coast wherever he could. At 18 he settled in Geelong, Victoria and has exhibited widely since 1996, nationally and internationally showing powerful work that addresses his experiences of growing up in Western Australia's Mid West and the ongoing challenges of Aboriginality in today's world. McKinnon is an inaugural Vice Chancellor's Pre-doctoral Indigenous Fellow with RMIT School of Art and is completing a PhD by practice with RMIT University. 
Yiwon Park
Yiwon Park is a Korean-Australian artist based in Melbourne. She often draws upon her experience living between cultures within her creative practice, having grown up in Korea and immigrating to Australia in 2003. Park is interested in cross-cultural art projects between Australia and Korea, working as a liaison and participating artist for 'Korean-Australian contemporary prints' in 2016. Park has exhibited work in Seoul, Sydney, Hong Kong and Melbourne. Park participated in the Artist in Residency program at Artspace Hue in Korea from 2015-2018 and Camac-Centre d'Art Marnay in France in 2012. 
Dominic Redfern
Dominic Redfern is an artist and academic with a keen interest in historical vectors that inform the human condition and the state of the planet more broadly. Redfern is always interested in origin stories and his key interests are in evolution (including the evolution of consciousness, and aesthetics in particular), geography in the expanded field, and biology (including the biology of consciousness, and aesthetics in particular). He typically works with video in multi-screen installations, but also makes single channel and live screen works. Redfern has undertaken residencies and site-responsive projects in Australia and internationally. 
Philip Samartzis
Philip Samartzis is a sound artist, researcher and curator with a specific interest in the social and environmental conditions informing remote wilderness regions and their communities. His art practice is based on deep fieldwork where he deploys complex sound recording technology to capture natural, anthropogenic and geophysical forces. The recordings are used within various exhibition, performance and publication outcomes to demonstrate the transformative effects of sound within a fine art context. He is particularly interested in concepts of perception, immersion and embodiment to provide audiences with sophisticated encounters of space and place. 
Mariela Sancari
Mariela Sancari was born in Buenos Aires, Argentina, and has lived and worked in Mexico City since 1997. She is a self-taught artist who reclaims practice and thought outside the hegemonic circuits of validation and training. Her work revolves around truthfulness and fiction in images, using personal narratives to explore the boundaries of the scope of photography as a means of representation. Sancari has participated in numerous solo and group exhibitions across South America, Europe, the UK and America. She is also the founder of FOLIO, Centro de la Imagen's public photobook collection. 
Anna Schwann
Anna Schwann works in an expanded sculptural practice that investigates the encounter between art and audience. Through playful resistance and embracing failure, she facilitates a conversation using sensory engaging tactics as means of connection. Taking a D.I.Y approach to technique, Schwann utilises provisional, accessible materials for making and uses everyday objects in her narrative. 
Thembi Soddell
Dr Thembi Soddell is an artist and practice-based researcher known for their powerful acousmatic sound performances and installations in darkness. Their PhD research, titled 'A Dense Mass of Indecipherable Fear: The Experiential (Non)Narration of Trauma and Madness through Acousmatic Sound', explored a novel approach to understanding lived experiences of "mental illness" using a medium (abstract sound) with a unique ability to reflect the intangibility of the inner world. Its associated album, Love Songs, was praised for its "innovative approach to form" (Fluid Radio) and its launch won the 2019 Green Room Award for Contemporary Sound Performance.  
Hiromi Tango
Hiromi Tango is an Australian-based artist whose practice intersects with arts, health, nature, and neuroscientific research. Tango has dedicated her practice to exploring the mental health benefits of arts engagement. Her studio practice and community projects explore how art-making can contribute to positive mental wellbeing. She is currently working on a major public artwork, 'Garden | Healing Together', for Tweed Valley Hospital that contemplates the many ways that connecting with nature supports wellbeing. Tango's works have been exhibited at major galleries across Australia and internationally and are held in key public and private collections. 
Julie Watkins
Melbourne artist Julie Watkins investigates the vulnerability of women through her interdisciplinary practice incorporating photography, photomontage, painting, print processes and installation. Her photographic works are inspired by Australian inland travel and the locality of St Kilda, where Watkins' studio has been established since the 1970s. Abandoned urban sites and outback ruins form theatrical backdrops for Watkins' semi-autobiographical female figure who acts out dramatic narratives of sexuality, gender, ambiguity and abandonment. Watkins is a Fine Art Graduate of RMIT University and former Associate-Lecturer at RMIT and the Victorian College of the Arts. 
Jude Worters
Born in New Zealand, Jude Worters settled in Melbourne in 1988. Worters' multi-disciplinary practice encompasses soft sculpture, self-portraiture, costume and installation. Her recent projects explore the legacy of trauma and the transformative nature of the creative process. Worters completed a Bachelor Degree at the Victorian College of the Arts and a Graduate Diploma of Education at Melbourne University. On graduating she began teaching Art at the Victorian Centre for Adult Education. She is currently engaged in PhD research at RMIT University in Melbourne, where she also completed a Masters in 2016. 
NPY Women's Council
Uti Kulintjaku is an award-winning initiative of the Ngangkari Program that supports mental health understanding. Led by ngangkari and senior Anangu, Uti Kulintjaku encourages deeper conversations about mental health and healing for Anangu and people working in Aboriginal health and related services. It takes its name from a Pitjantjatjara phrase that means 'to listen, think and understand clearly' 
Felt Experience & Empathy Lab (fEEL)
The Felt Experience & Empathy Lab (fEEL) is funded through the Australian Research Council Laureate Fellowship awarded to Scientia Professor Jill Bennett, Director of the Big Anxiety Research Centre. fEEL brings together specialists in immersive media, participatory design, trauma studies and psychosocial studies to advance new methods in the study of embodied subjective experience – focusing on trauma and mental health. Jill Bennett – Australian Research Council Laureate Fellow and Project Director; Volker Kuchelmeister – Research Fellow in Immersive Visualisation; Gail Kenning – Postdoctoral Fellow in Participatory Design ; Lydia Gitau – Postdoctoral Fellow in Psychosocial Practice;  Bec Moran – NHMRC ALIVE Lived Experience Engagement Fellow; Melissa Neidorf – Manager 
History
This exhibition is being produced across two significant RMIT galleries, RMIT Gallery and RMIT Design Hub Gallery.  
RMIT Gallery is a public art gallery that presents an engaging and thought-provoking program of contemporary exhibitions featuring emerging and established artists and curators.    
The RMIT Design Hub Gallery uses exhibitions, conversations, performances and publications to ask questions about design's role in the world today.  
How to Engage
This exhibition has been designed to engage with all audiences. Access to RMIT's galleries is free of charge and entry does not require a booking. If you would like to attend this exhibition with a group of ten or more people, we kindly request that you contact us in advance to book in your visit. This will help us support your experience and minimise clashes with other events and programming.  
Across this project we will be organising a public program of events to engage with the works and themes of the exhibition. If you are interested in attending our public programs, please consult our websites.