16 Oct 2019
5:00 pm — 10:00 pm
VENUE: Art Gallery of NSW
The Art Gallery of NSW hosts The Big Anxiety 2019 for a series of mostly-free events on 16 October from 5.00pm
About
Australia's largest mental health festival returns to AGNSW after the success of our 2017 evening. For 2019, the Big Anxiety Art After Hours program will include:
5.30pm – Uti Kulintjaku Initiative (Entrance Court)
Ngangkari (traditional healers) and artists from NPY Women's Council still the gallery spaces of AGNSW with guided meditations in language – followed by a performance presentation. Uti Kulintjaku is a Pitjantjatjara phrase that means to "listen, think and understand clearly – and the name of this acclaimed Indigenous project promoting mental health and healing.
6.30pm – The Listening Panel (Centenary Auditorium)
Experts with highly developed listening and empathy skills discuss the tools of their trade and what makes a good listener. Panel speakers: artist and mindfulness teacher, Sherre DeLys; funeral celebrant Victoria Spence; Wayside Chapel pastor, Jon Owen; psychiatrist Professsor Russell Meares; and Lynne Malcolm, presenter of Radio National's All in the Mind, will moderate. Free but bookings are essential.

A digital recording of the event is available here for listening.
7.15pm – Body Mapping (Gallery Space, cost: $10/$8 members & concessions)
Body mapping is an arts-based research tool, focused on embodied experience and exploration of bodily and psychological feelings. Used extensively in a research program at the Black Dog Institute, led by Professor Kathryn Boydell, body mapping involves tracing around a person's body to create a life-sized outline, which is then filled in during a creative and reflective process, producing an image that reveals aspects of embodied experience. Session facilitated by Dr Sally Nathan, UNSW Medicine. 
7.30pm – Black Rhymes (Entrance Court)
Sydney's leading performance event for Aboriginal writers gives voice to Indigenous perspectives on mental health and healing. Hosted by Big Anxiety ambassador and poet, Evelyn Araluen, with the powerful and transformative poetry of Lorna Munro, Alison Whittaker, Elizabeth Jarrett and Luke Patterson.
Supported by The Copyright Agency Cultural Fund.
All evening – Virtual Reality Station (AGNSW Café)
Experience virtual reality works for The Empathy Clinic, including:
     Parragirls Past, Present-an immersive and moving VR work, rewriting institutional history, unsettling myth and memory;
     Being Debra-empathise and feel the lived experience of a person with dwarfism;
     Ngura Wirukutu Katinja and Purlu Katalarranguru-creative visualisation and calming meditation from the UK Initiative.
The Listening Panel Speakers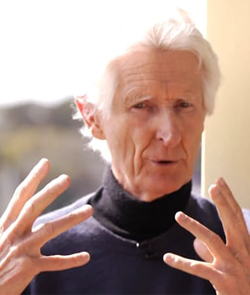 Russell Meares, Emeritus Professor of Psychiatry at Sydney University, is one of Australia's most distinguished psychiatrists, best known for co-founding, with Robert Hobson, the Conversational Model of psychotherapy. This humanistic approach to therapy focuses on attending to the minute particulars of conversation.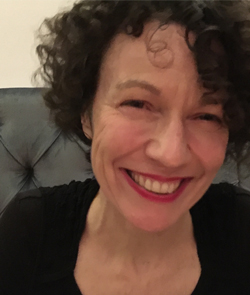 Sherre DeLys' work focuses on deep listening whose new listening work is part of The Big Anxiety's Empathy Clinic. An artist and producer of radio and performance, her relational listening art projects are broadcast, performed and exhibited internationally, having received some of the world's most respected audio art awards. She teaches at Chris O'Brien Cancer Research Hospital, RMIT and the Barre Centre for Buddhist Studies in
Massachusetts, helping to cultivate the listening art of mindful relationship in a range of challenging human experiences.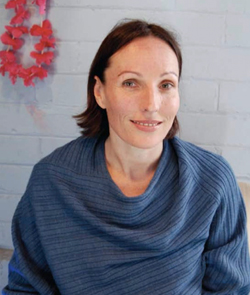 Victoria Spence is a civil celebrant and funeral director, specializing in end of life care. She is also an artist who works at the intersection of cultural, community and creative arts practice as a performer, curator and producer. Her work is concerned with Life Rites — developing death literacy and capacity in individuals, families and communities. Within Life Rites, listening is a central tenet of the practice of integrating end of life and after death care.
Victoria is informed by her Body Mind Centering practice and training as well as Somatic Experiencing work, and her embodied movement and performance practice.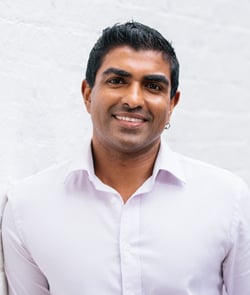 Jon Owen is CEO and Pastor of Wayside Chapel. He has dedicated his life to closing the gap on inequality, living and working amongst some of the most disadvantaged communities in Sydney and Melbourne. As an immigrant, Jon's life is testament to the power of hospitality and he is passionate about working alongside people who are socially excluded as they seek reconciliation, welcome, justice and healing. A qualified social worker, Jon's absolute commitment is to supporting and listening to individuals and families living in poverty.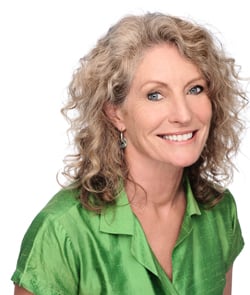 Lynne Malcolm (moderator) is presenter of Radio National's All In The Mind, for which she has won several awards for her broadcast work, including three Mental Health Services media achievement awards (for programs on schizophrenia, youth mental health and de-stigmatising mental health). All in the Mind was a finalist in the science and medicine category of the 2019 Australian Podcast Awards. With a background in psychology, she is an
accomplished radio producer and presenter, herself skilled in the art of listening to people and their stories.
Black Rhymes Artists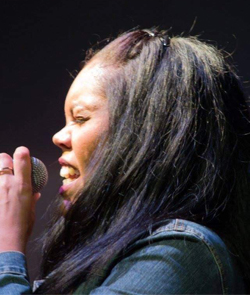 Lorna Munro is a Wiradjuri/Gamilaroi dynamic artist and educator working with visual arts, spoken word poetry, experimental performance art, radio, film, television theatre and set design. Her work has been performed and published in a range of national and international spaces, such as Next Wave, Sydney Writers Festival, Bellingen Writers Festival, and Red Room Poetry Company's The Disappearing project. In 2015 she edited Cambridge University Press' anthology of Aboriginal writing, Paper Dreaming: Our Stories, Our Way. Her podcast with Radio Skid Row, 'Survival Guide', centres Indigenous voices amongst multicultural Waterloo residents to question, challenge and critique colonisation and gentrification in urban Aboriginal space. She has been an active member of her community since the age of thirteen and has traveled to New Zealand and South America for cultural exchange and youth leadership programs before she was nineteen.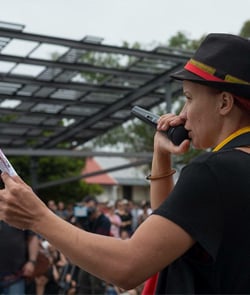 Elizabeth Jarrett is a Gumbaynggirr, Dunghutti, Bundjalung warrior woman, poet, activist and mother. She has led protests demanding justice for Aboriginal deaths in custody, land rights, and the forced removals of Aboriginal children. She is a founding member of FIRE Fighting in Resistance Equally, and an active campaigner for many social causes, from Justice for David Dungay Jnr and other victims of police brutality, to the end to offshore detention of refugees on Manus and Nauru. Elizabeth writes, publishes and performs poetry in Sydney, in spaces such as Word in Hand, Green Left Weekly, the Unspoken Words Festival. Her poetry celebrates black survival and resistance, calls for justice for victims of colonial violence, and grieves the ongoing dispossession of sovereign Aboriginal country.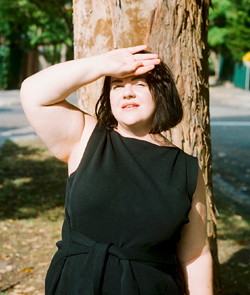 Alison Whittaker is a Gomeroi poet and legal researcher from the floodplains of Gunnedah in NSW. Between 2017-2018, she was a Fulbright scholar at Harvard Law School, where she was named the Dean's Scholar in Race, Gender and Criminal Law. Her second book, BLAKWORK, was released with Magabala Books in September 2018. Alison is a Research Fellow at the Jumbunna Institute.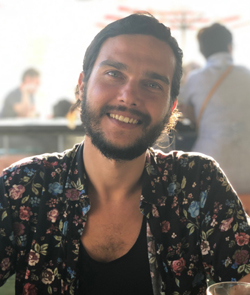 Luke Patterson is a Gamilaraay poet and folklorist living on Gadigal lands. He is interested in the ways bioregional identities and consciousness are expressed through cultural forms across borders, such as those ordinarily separating academics and performance, as well
as elite and vernacular cultural spheres. Luke's research and creative pursuits are grounded in his extensive work with Aboriginal and other community-based organizations across Australia.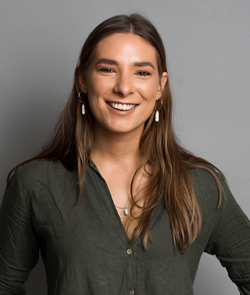 Evelyn Araluen is a poet, researcher and educator working with Indigenous literatures at the University of Sydney. Her writing has been awarded by the Judith Wright Poetry Prize, the Nakata Brophy Prize for Young Indigenous Writers, and the Wheeler Centre Next Chapter Fellowship to develop her first collectionDropbear, to be published in 2020. Born, raised, and writing in Dharug country, she is a descendant of the Bundjalung nation.
Debra Keenahan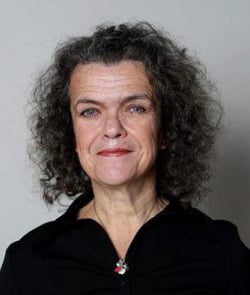 Being Debra experimentally employs Virtual Reality (VR) cinematic production to immerse the viewer into the lived experience of a person with dwarfism. The purpose of this project is for the audience to have an embodied experience of having dwarfism in contemporary Australian society, thus potentially increasing empathy for a physical difference not readily emulated.
Debra is never nobody. She's always looked at, she's often stared at,
she's commented about, and sometimes laughed at. What she really wants
is to be spoken 'with'. Debra has achondroplasia (dwarfism) and wants
to help people to get comfortable with diversity. As an artist,
psychologist and academic, Debra's work focusses upon the
personal/social impacts of disability. She uses 2D and 3D art methods
to represent the manifestation of dignity in the disability aesthetic.
Debra has exhibited in group and solo exhibitions and her work is held
in in a number of private collections. Debra lectures at Western
Sydney University in Humanitarian and Development Studies, her first
PhD was in Psychology on the subject of Dehumanization. Debra is
currently studying for her second PhD in Visual Arts at Art & Design
UNSW, her research focuses upon developing a Critical Disability
Aesthetic through the representation of the female dwarf
Ngura Wirukutu Katintja | Purlu Katalarranguru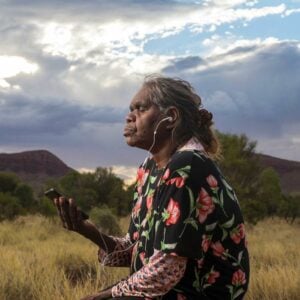 VR experience based on a visualisation meditation on talingka (sandhill), a shared place of good childhood memories. It was written as if a friend was taking you to this place. The Uti Kulintjaku team made this work so it could be used by people away from country or on dialysis as a 'calming meditation'.
Image Credit: Rene Kulitja, Uti Kulintjaku meditation app, Eagle Valley near Docker River Northern Territory, April 2018. Photo: Rhett Hammerton
Body Mapping with Dr Sally Nathan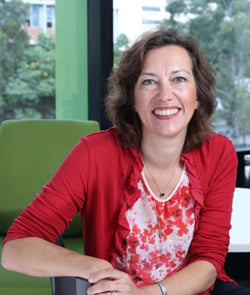 Inspired by the artworks in the Gallery's collections, engaging in a series of meditative and creative activities based on the tenets of mindfulness and positive psychology, create your own life-sized body map.
Sally Nathan's career has been focussed on what it means to effectively engage consumers and community, in particular those who have been historically excluded from participation and decision-making in societal organisations and structures, including complex health systems.
Uti Kulintjaku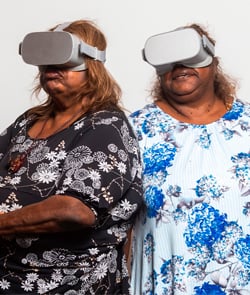 The Uti Kulintjaku [UK] initiative is an innovative, Aboriginal-led mental health literacy project that takes its name from a Pitjantjatjara phrase that means 'to think and understand clearly'. Led by the Ngangkari traditional healers and artists of the NPY Women's Council, UK explores mental health from both Aboriginal and Western perspectives.
Image Credit: Nyunmiti Burton and Pantjiti Lewis at NPY Uti Kulintjaku VR workshop, Alice Springs, 2019. Photo: Rhett Hammerton