20 Sep 2017 — 7 Oct 2017
20 Sep: 6.30pm (Live Performance)
21 Sep – 7 Oct: 10am – 5pm [Black Box Exhibition Hours]
VENUE: The Black Box Theatre, UNSW, Paddington, First floor, D106, D Block.
For many of us, the experience of standing in front of a crowd to speak or perform is nerve-wracking and in some cases utterly terrifying. BETA SHOCKERS invites the audience to experience stage fright from the inside out.
About
Tina Havelock Stevens' new video installation creates extended moments of discomfort in a video mash-up of recorded moments of performance-anxiety experienced by well-known musicians. The moving image is accompanied by an improvised drumming soundtrack and explores the possibilities of generating an 'anxiety/empathy' loop.
Tina will perform a spontaneously composed drumming score live for the Big Anxiety Opening Night on September 20 and at Art Gallery of NSW as part of Art After Hours on October 4.
Live Performance, 20 Sept: 6.30pm
Black Box Exhibition hours
21 Sept – 7 Oct: 10am – 5pm (Tues – Sat)
Festival Commission.
This project has been assisted by the Australian government through the Department of Communication and the Arts' Catalyst—Australian Arts and Culture Fund.
Artist Biography
Tina Havelock Stevens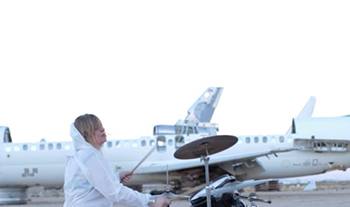 Tina Havelock Stevens is a Sydney based artist who works predominantly in video, music, sound, experimental documentary, and performance.
Havelock Stevens makes portraits exploring the state of the contemporary world. The internal narrative which shapes the ethics and aesthetic of her practice constitutes the meditation on the relationships that we have between each other, the places we inhabit, and ourselves.
Her conceptual engagement is layered with themes of decay, survival and fragility within urban, environmental and emotional spaces. Recent exhibitions include Double A – Side, Darren Knight Gallery, Sydney, 2017; Techstyle, MILL 6 Foundation, Hong Kong, 2016; and THUNDERHEAD, Performance Space, Carriageworks, Sydney, and DARK MOFO, Hobart, 2016.