23 Sep 2017
BOOK NOW to register for this event.
VENUE: Macquarie Room, Macquarie Street Building, State Library of NSW
Conceived by artist and academic Lois Weaver, whose practice uses the familiar to get people to talk about what is troubling and unfamiliar, the Care Cafe is a new call to conversation in a turbulent era where human rights are under threat.
About
This Care Cafe will be supported by guest curators who will each select an object from the State Library's Collection to encourage reflection upon 'care and human rights.' Guest curators include Andrea Durbach, Director of the Australian Human Rights Centre, Bonney Djuric, Project Director, Parramatta Female Factory Precinct Memory Project and former Parragirl,and Sarah Coconis, Mental Health Nurse and artist.
The Care Café takes on the look and feel of a traditional café whilst keeping care and inclusion as its core ethos.
The Care Café is a developing, open-source protocol. Information can be found at the Care Cafe Facebook page.
Presented in association with State Library NSW and The Australian Centre for Human Rights. Supported by The Wellcome Trust.
Artist Biography
Lois Weaver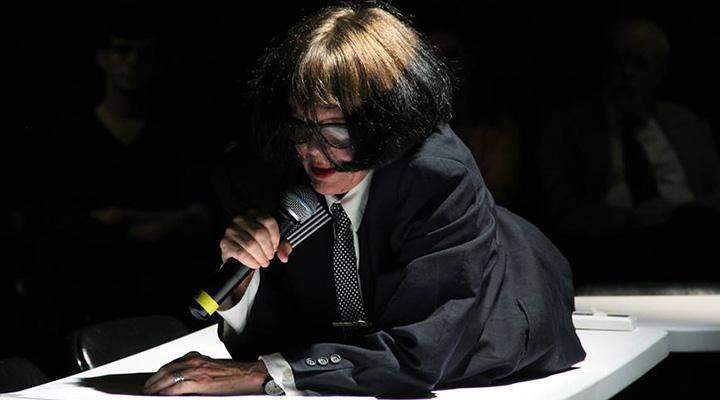 Lois weaver is an artist, activist and part time professor of Contemporary Performance at Queen Mary, University of London. She was co-founder of Spiderwoman Theatre, WOW and Artistic Director of Gay Sweatshop in London. She has been a writer, director and performer with Peggy Shaw and Split Britches since 1980. Recent work includes: Miss America (2008); Lost Lounge (2009) and RUFF (2012). Split Britches' collection of scripts, Split Britches Feminist Performance/Lesbian Practice, edited by Sue Ellen Case, won the 1997 Lambda Literary Award for Drama. In 2012, Split Britches was presented with the Edwin Booth Award by City University of New York in honour of their outstanding contribution to the New York City/American Theatre and Performance Community. Lois was named a Senior Fellow by the Hemispheric Institute of Performance and Politics in 2014. She is a 2014 Guggenheim Fellow and a Wellcome Trust Engaging Science Fellow for 2016-18.
Sarah Coconis
Sarah Coconis has worked as a mental health nurse in public health settings since 2008, across NSW and Victoria. She has worked in both inpatient and community mental health settings, as well as homeless outreach teams. Sarah is first and foremost a consumer advocate. She is particularly interested in issues of power, trauma, recovery, and reform of the mental health system. These interests led her to work as a clinical nurse consultant with a particular focus on trauma-informed mental health nursing approaches, seclusion and restraint reduction, staff education in various progressive models, and trauma informed service implementation in public health settings. Sarah is also a clinical supervisor and is currently undertaking a Masters of Psychotherapy in The Conversational Model. She also completed a Postgraduate Diploma of Community Mental Health in addition to her nursing and mental health nursing qualifications.
Bonney Djuric
Bonney Djuric is an artist, writer, historian and Forgotten Australian. She is Adjunct Lecturer at UNSW National Institute for Experimental Arts. Bonney works across painting, new media and textiles. Her interests concern the memorialisation of institutional sites of confinement associated with women, children and mental health. She is founder of Parragirls, a support group for former Parramatta Girls Home residents, and Director and co-founder of Parramatta Female Factory Precinct Memory Project. Her advocacy for Forgotten Australians has been acknowledged in State and Federal Parliaments. Bonney is author of two monographs on Parramatta Female Factory Precinct and Parramatta Girls Home.
Andrea Durbach 
Andrea Durbach is the Director of the Australian Human Rights Centre and a Professor of Law at UNSW. Andrea was the Deputy Sex Discrimination Officer for the Australian Human Rights Commission in 2011 and 2012. Born and educated in South Africa, she practised as a political trial lawyer and human rights advocate, representing victims and opponents of apartheid laws. Her areas of expertise include: access to justice, legal ethics and public interest litigation; the implementation of economic, social and cultural rights, with a particular focus on health; reconciliation and facilitating reparations for the Stolen Generations; the role and impact of national human rights institutions in the Asia Pacific region (the subject of a 3-year Australian Research Council funded project with the Asia-Pacific Forum of National Human Rights Institutions). For the AHRCentre, Andrea co-directs projects on health and human rights, and national human rights institutions and the Asia-Pacific forum.