21 Sep 2017 — 11 Nov 2017
Mon – Fri: 10am to 7pm
Sat & Sun: 11am to 4pm
Closed on public holidays.
VENUE: Customs House
Clement Space in the City (2017) addresses anxiety from an autistic sensory-communicative consciousness, reflecting upon the insistent and precarious quest for sensorial refuge and equilibrium – little fermata – amidst harsh, jarring and antagonistic social-ambient landscapes.
About
Clement Space in the City (2017) invites people to discover small, peaceful, accessible sensory pockets replete with multi-textured embellishments. Tulle and organza curtains shield from the frenetic; eclectic wall dressings invite soothing tactile engagement; hideaway cocoons and netted tents furnished with blankets, pillows, and cushions wordlessly beckon. Once inside, these miniature enclosures transform into personalised, intimate apertures of respite.
The concept of 'clement space' was inspired by Dawn-Joy Leong's assistive greyhound Lucy Like-a-Charm's innate ability to gently and elegantly create and possess comfort wherever she travels.
Clement Space in the City (2017) encourages its visitors to mentally and physically embrace passive restfulness while simultaneously encouraging active, individualised coping strategies for wellbeing, through conscious, positive relationships with the immediate material environment.
This project is supported by the City of Sydney Cultural and Creative Grants.
Artist Biography
Dawn-Joy Leong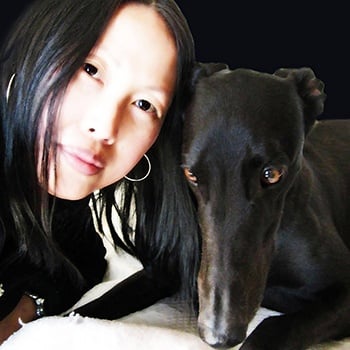 Dawn-Joy Leong (Singapore) is an autistic artist-researcher presenting autism as parallel embodiment, with sensory-cognitive idiosyncrasy as the nucleus of her research, and an artistic practice of immersive mind-body experiences via music, visual art, photography, narrative, poetry and performance.
Lucy Like-a-Charm, a rescued former racing Greyhound, is Dawn's creative muse and faithful companion. Together, they traverse blended, multidimensional terrains of neurodiversity: flipping pages of imagination, dancing around pandiatonic-chromatic-polyrhythmic fires, celebrating symbiotic connectivity, and finding new ways to sense the world and Be.
Dawn-joy Leong has an MPhil in music composition, and completed her PhD at UNSW Art & Design in 2016.