17 Oct 2019
6.30pm Pre-Show Panel Talk
8:00pm Concert
VENUE: City Recital Hall, Angel Place
Daughters is a world premiere song-cycle that uses the haunting form of Portuguese fado, female voice and intimate musical accompaniment to evoke the strength and tragedy of women and girls lost to violence.
Presented by The Big Anxiety, City Recital Hall and Tammy Brennan.
About
Can art tell an old story in a new way? Does music have the power to transform narrative and heal wounds left wide open for centuries?
Daughters exposes a story often hidden behind closed doors and swept away from society's day-to-day life. A story that ends in the death of one woman each week, yet is not considered a national emergency.
Through the expressive form of the Portuguese fado, guitar and song join together to tell the real-life stories of women and girls affected by gender violence. The soulful depth of soprano Aivale Cole's voice will take you on a powerful journey following the survivors who can speak their truth and those who cannot.
Experience how music can deliver the strength of the women and girls who have been lost to domestic violence.
Libretto by Tammy Brennan and music by David Chisholm, with musicians Mauricio Carrasco, Leni Phillipe-Janon and Miranda Hill.
Join us for an In Conversation before the performance with Tammy Brennan (Librettist) and Moo Baulch (former CEO Domestic Violence NSW) moderated by Andrea Durbach (Professor of Law UNSW). The pre-show conversation will look at the role of art and artistic processes as mechanisms for transforming community attitudes to gender inequality and resulting harm.
Composer: David Chisholm
Librettist: Tammy Brennan
Soprano: Aivale Cole
Guitar: Mauricio Carrasco
Portuguese Guitar: Leni Phillipe-Janon
Double Bass: Miranda Hill
Lighting Design: Ben Hughes
Photography by Meg Lavender
The song-cycle is part of a world first intercultural Australian and Indian opera project, The Daughters Opera Project. The full international opera work premieres in New Delhi, India in January 2020. The opera is supported by Australia Council for the Arts, Create NSW, Creative Victoria, The Australian High Commission, and Teamwork Arts.
The Daughters Song Cycle World Premiere has been assisted by the Australian Government through the Australia Council, its arts funding and advisory body.
If you or someone you know is impacted by sexual assault, family or domestic violence, call 1800RESPECT on 1800 737 732 or visit www.1800RESPECT.org.au.
In an emergency, call 000.
Artist Biography
Tammy Brennan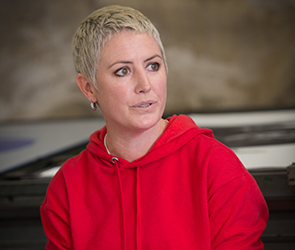 Tammy Brennan is an artist who creates and produces contemporary cross-artform works using text, music, performance and site. Her work uses multiple artistic languages to investigate culture and contemporary issues, such as human rights violations and trauma. Her practice is focused on artistic exchange and interdisciplinary collaboration that seeds critical thinking, action and reflection targeted at meaningful social engagement.
David Chisholm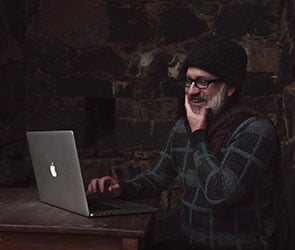 David Chisholm has an international practice defined through diverse and hybrid collaboration for which he has won six Green Room Awards, a French Australian Chamber of Commerce and Industry Award, a Highly Commended Paul Lowin Prize, a Mention at 36th Bourges International Competition of Electroacoustic Music and
Electronic Art, a Special Mention in the X Media Forum, 31st International Film Festival in Moscow, the Medibank Private State and National Arts Awards and The National Young Achiever of the Year. David is founder, CEO and Artistic Director of the Bendigo International Festival of Exploratory Music. In 2014 he was an Associate Artist for Malthouse Theatre and in 2017 David was an Australia Council for the Arts Composer in Residence at HIAP in Helsinki, Finland. He is currently Senior Lecturer and Composition Convenor | School of Music, University of Auckland.
Aivale Cole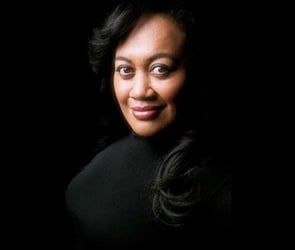 New Zealand born Soprano AIVALE COLE is now based in London, United Kingdom. She graduated from the Australian Opera Studio with Honours and was awarded the Dux Prize 2005. Previously she completed a Bachelor in Performance Art degree at The National Academy of Singing and Dramatic Art (NASDA) in Christchurch, New Zealand and a Diploma in Performance Art (Opera) at the University of Auckland.
Aivale's performances on the concert platform include The Requiem (Verdi) with the Adelaide Symphony Orchestra conducted by Arvo Volmer; The Four Last Songs (Richard Strauss) with the Wellington Orchestra conducted by Marc Taddei; and the world premier of The Passion according to St Mark (Richard Mills) in Hobart, Perth and Brisbane. In September, Aivale made her debut at the Sydney Opera House with the Sydney Philharmonia Choirs conducted by Brett Weymark in performances of The Requiem (Verdi). On the operatic stage she has been seen in the title roles in Aida (Verdi), Ariadne auf Naxos (R.Strauss) and Madama Butterfly (Puccini); Cleopatra in Giulio Cesare (Handel); Female Chorus in The Rape of Lucretia (Britten); Countess Almaviva in Le Nozze di Figaro (Mozart), Micaela in Carmen (Bizet), Fiordiligi in Cosi Fan Tutte (Mozart).
Mauricio Carrasco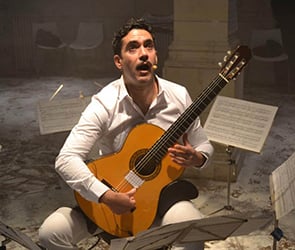 Mauricio Carrasco is a Chilean-Australian with a degree in classical guitar. Continuing his studies at the Haute Ecole de Musique de Genève under the guidance of
Maria Livia São Marcos, he was awarded high distinctions for two master's degrees: a soloist diploma and a postgraduate diploma in contemporary chamber music under the supervision of Jean-Jacques Balet.
Leni Philippe-Janon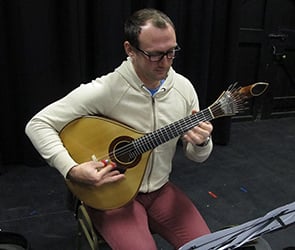 Leni Philippe-Janon studied classical guitar at the Queensland Conservatorium of Music completing a Bachelor of Music and Master of Music under the guidance of Julian Byzantine. Accompanying the fado singer Carolina Cordeiro inspired Leni to extend his instrumental repertoire to the unique technical demands of the Portuguese guitar. He is now one of few exponents of this tradition in Australia.
Miranda Hill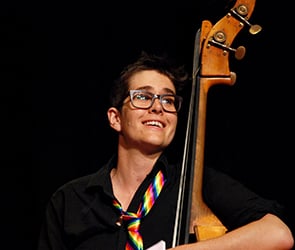 Miranda Hill is a double bassist, producer, and educator based in Melbourne. Passionate about bringing experimental music to new audiences, she can be found performing everywhere from concert halls, to sticky carpet pubs, and maybe your own living room. She is artistic director and founder of experimental music ensemble: 3 shades black; Musical Director of Riff Raff Radical Marching Band; one half of the artistic collaboration Fine Small Mountain with Naima Fine; Octave Pussy: electro-acoustic drum and bass duo with Nat Grant; and with Leah Scholes: The Flying Tapirs.
Ben Hughes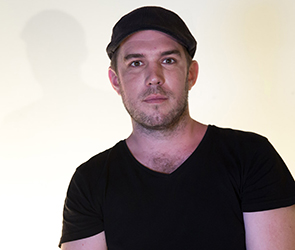 As Lighting Designer Ben Hughes has credits across theatre, dance and opera including productions with Queensland Theatre, Sydney Theatre Company, Melbourne Theatre Company, Opera Queensland, Belvoir, La Boite Theatre Company, Queensland Ballet, Sydney Festival, Brisbane Festival, The Danger Ensemble, Expressions Dance Company, HotHouse Theatre, The Nest Ensemble, Zen Zen Zo Physical Theatre, JUTE Theatre, Stella Electrika, Queensland Performing Arts Centre, Queensland University of Technology, Phluxus2 Dance Collective, Collusion, Gold Coast Arts Centre, Woodford Folk Festival and Kooemba Jdarra.
Andrea Durbach Panel Discussion Moderator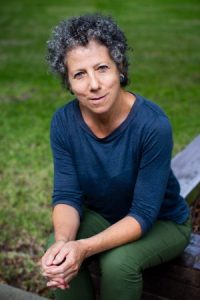 Andrea Durbach is Professor of Law at the University of New South Wales where she was Director of the Australian Human Rights Centre (now Institute) from 2004-2017.
She has held senior positions in the human rights field, including as Deputy Australian Sex Discrimination Commissioner and as a consultant to the Australian Defence Abuse Response Taskforce to develop and evaluate a framework to address the needs of Defence Force victims of gender-based violence.
Andrea has published widely on a range of human rights issues, including gender justice, and has recently completed an Australian Research Council funded research project examining reparations for victims of sexual violence post-conflict. Between 2015-17, Andrea led a major research project, Strengthening Australian University Responses to Sexual Assault and Harassment, publishing On Safe Ground: A Good Practice Guide for Australian Universities.
Moo Baulch Panel Discussion Participant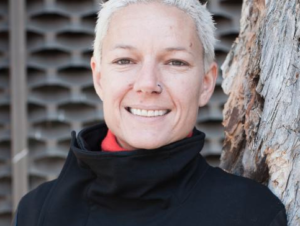 Moo Baulch is the former chief executive of Domestic Violence NSW, the state peak body for specialist domestic and family violence (DFV) services. For six years she worked as part of a small team that works to improve policy and practice responses to women, children and communities impacted by violence.
Moo has worked in the non-government, not for profit sector in Australia, South East Asia, the UK and Spain over the last couple of decades. She believes that public awareness of domestic and family violence and sexual assault is at an unprecedented level and that cross-sector and community partnerships are key to the cultural and practical changes required for inclusive support.
She looks forward to the day when all children are taught in schools about the intersections between discrimination, bullying, violence and healthy respectful relationships.