14 Oct 2017
The screening of the film is followed by a Q&A.
Film: 58mins.
Q&A: 30mins.
VENUE: Palace Cinemas Norton Street
Dogs of Democracy is about the big-hearted stray dogs of Athens and the generous people who take care of them.
Equally, it is a story about the Greek crisis told through the eyes of dogs and the insights of the local people as they experience one of the most unsettling moments in Greek history.
About
Shot on location in Athens, the birthplace of democracy, this documentary by first-time filmmaker Mary Zournazi, examines the idea that Greece has become the 'stray dog of Europe' and how the dogs have become a symbol of hope for the people and for the anti-austerity movement.
The film poses questions about economic anxiety and what it might be mean to live in a 'post hope' world. These are then taken up in a post-film discussion with the Director.
WINNER! Spirit of Activism Award, Nevada Women's Film Festival, March 2017
"An inspiring film … the big-hearted dogs of Athens, and the generous Greeks behind them, are able to shine a light for us in the midst of the present neoliberal darkness." – J.M. Coetzee, Nobel-Prize-winning author.
"A powerful film … the stray dogs of central Athens are transformed from mere symbols of a peculiar freedom to witnesses of a heart-wrenching human crisis." – Yanis Varoufakis, Former Greek Finance Minister, economist and writer.
Artist Biography
Mary Zournazi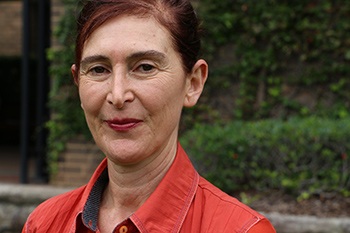 Mary Zournazi is an Australian author, philosopher and filmmaker.  Her most recent film is Dogs of Democracy (2016). Dogs of Democracy is an essay style documentary about the stray dogs of Athens and the people who take care of them, and the film is equally about the Greek economic crisis.
Mary has been concerned with issues of social anxiety, hope and crisis for over 20 years now, and this film explores issues of economic anxiety and the question of social hope. She is also the author of several books including Hope – New Philosophies for Change and Inventing Peace with the German filmmaker Wim Wenders. She is the co-editor with Jill Bennett of the Thinking in the World Reader and the book series of the same name. She teaches in the sociology program at the University of New South Wales, Australia.