20 Sep 2017 — 11 Nov 2017
VENUE: UNSW Galleries, Paddington Campus
The world is changing at a dramatic pace, we're more connected and bombarded with astonishing amounts of data. Group Therapy explores our emotional relationship with digital devices and how we experience these objects as anxiety-making but also highly seductive.
About
In a period of relative prosperity, instances of anxiety and depression are astonishingly high. For many, digital technologies are exacerbating this problem, altering our sense of identity and social relationships.
Meanwhile, others suggest that technological innovation is a crucial tool for finding new ways to improve the lives of those who experience social isolation, illness and emotional distress.
Group Therapy offers artworks, design objects and digital research exploring connections between mental health and the values, political conditions, and technologies that structure our lives.
Visitors are invited to consider their own relationship to technology and how constant digital stimulation and distraction can serve to numb or exacerbate day-to-day anxieties.
Gallery Talks
21 September at 1pm, curator Vanessa Bartlett, artist Lauren Moffatt and Director of FACT, UK, Mike Stubbs will talk in the gallery.
22 September at 12pm, artist Jennifer Kanary Nikolova will demonstrate and talk about Labyrinth Psychotica.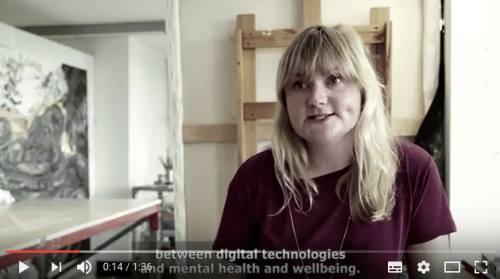 Group Therapy was initiated by FACT (Foundation for Art and Creative Technology), Liverpool, where its first iteration took place in 2015. It is curated by Vanessa Bartlett.
Exhibition is open Tuesday – Saturday.
Contributing Artists
Katriona Beales (UK)
Miyarrka Media (Australia)
Lauren Moffatt (Germany/Australia)
George Khut (Australia)
Erica Scourti (UK/Greece)
Institute for New Feeling (USA)
Gretta Louw (Germany/Australia)
Superflex (Denmark)
Jennifer Kanary Nikolova (Netherlands)
Dora García (Spain)
Melanie Manchot (UK)
Richard Bell (Australia)
Bonney Djuric, Lily Hibberd and Jenny McNally, members of the Parramatta Female Factory Precinct Memory Project. (Australia)
Kate Owens and Neeta Madahar (UK)
Jennifer Kanary Nikolova is supported by the Mondrian Foundation.
Banner image credit: Group, Institute for New Feeling, Pittsburgh, 2013.
Artist Biography
Katriona Beales
Katriona Beales is a London-based sculptor who creates digital artefacts, moving images and installations, stressing the continuing role of the object in digital life. Her work responds to the experience of slipping between offline and online worlds, information overload, online behavioural addictions, experiences of the technological sublime and notions of a Digital Baroque. Katriona's interdisciplinary project 'Are we all addicts now?' is supported by The Wellcome Trust and Arts Council England and will be exhibited at Furtherfield, London in 2017. Katriona received an MA from Chelsea College of Arts.
Richard Bell
Richard Bell lives and works in Brisbane, Australia. He works across a variety of media including painting, installation, performance and video. One of Australia's most significant artists, Bell's work explores the complex artistic and political problems of Western, colonial and Indigenous art production. He grew out of a generation of Aboriginal activists and has remained committed to the politics of Aboriginal emancipation and self-determination. Bell is represented in most major National and State collections, and has exhibited in a number of solo exhibitions at important institutions in Australia and America.
Bonney Djuric
Bonney Djuric is an artist, writer, historian and Forgotten Australian. Bonney works across painting, new media and textiles. Her interests concern the memorialisation of institutional sites of confinement associated with women, children and mental health. She is founder of Parragirls, a support group for former Parramatta Girls Home residents, and Director and cofounder of Parramatta Female Factory Precinct Memory Project. Her advocacy for Forgotten Australians has been acknowledged in State and Federal Parliaments. Bonney is author of two monographs on Parramatta Female Factory Precinct and Parramatta Girls Home. She is Adjunct Lecturer at the National Insitute for Experimental Arts, UNSW
Dora García
Dora García is a Spanish artist who has made several artworks about the revolutionary forms of psychiatry that emerged in the 1960s. She uses a range of media including performance, video, text and installation, and her practice focuses on the conditions that shape the encounter between the artist, the artwork and the viewer. García's pieces often involve staging unscripted scenarios that elicit doubt as to the fictional or spontaneous nature of a given situation, setting rules of engagement or using recording devices to frame both conscious and unconscious forms of spectator participation. García's work also explores the political potential rooted in marginal positions, paying homage through several works to eccentric and often anti-heroic personas. Dora García has participated in dOCUMENTA13 (2012), Biennale di Venezia (2011), Biennial de São Paulo (2010), the Biennale of Sydney (2008), Skulptur Projekte Münster (2007), Istanbul Biennial (2003).
The Institute for New Feeling
The Institute for New Feeling is a collective founded by Scott Andrew, Agnes Bolt, and Nina Sarnelle, committed to the development of new ways of feeling, and ways of feeling new. As a group, our identity is always shifting. Borrowing aesthetics and language from wellness and tech industries, market research, speculative design, political propaganda, we assume a familiar yet fragile voice of authority.
IfNf has recently shown work at Ballroom Marfa, TX, MoMA, NY, Istanbul Modern, Turkey, MAAT, Lisbon, Whitechapel Gallery, London, Hammer Museum, Los Angeles, Fundacion PROA, Buenos Aires, Akademie Schloss Solitude, Stuttgart, Jardin Essential, Bruxelles, Recess, NY, and Southern Exposure, San Francisco. IfNf has been featured in Frieze, Art in America, Vogue Italy, Huffington Post, SFMoMA, Creators Project, and Hyperallergic.
Neeta Madahar
Neeta Madahar is an artist, as well as a meditation and yoga teacher. She uses primarily photography and time-based media to explore constructions of nature, artifice and perception with an auto-biographical influence. Madahar has exhibited widely including at Iniva (2005), the National Media Museum (2009), after receiving the 2008/9 Bradford Fellowship in Photography, and the Kemper Museum of Contemporary Art (2013). She has received commissions from organisations including Film and Video Umbrella and Photoworks. Her work is held in collections including the Santa Barbara Museum of Art and the V&A Museum.
Melanie Manchot
Melanie Manchot is a London based artist who works with photography, film and video as a performative and participatory practice. Her projects often explore specific sites, public spaces or particular communities in order to locate notions of individual and collective identities. Her work has been shown nationally and internationally including exhibitions at The Whitechapel Gallery, London; MacVal, Musee d'Art Contemporain, Paris; The Photographers Gallery, London; The Brooklyn Museum, New York; The Australian Museum of Photography, Sydney; The Courtauld Institute, London; Museum Folkwang, Essen and as part of Nuit Blanche, Paris. She is the recipient of many awards including the Oriel Davies Award 2012. Her video installation 'Twelve' was presented as a solo national touring show from 2015-2016.
Jenny McNally
Jenny McNally is an artist, writer and former resident of Parramatta Girls Home. Jenny is an advocate for the rights of the child and Forgotten Australians. Her creative practice spans experimental writing, performance and printmaking. She joined Parramatta Female Factory Memory Project in early 2016 and has been integral to the realisation of major creative projects, such as co-producing collagraphic prints for the 2016 Living Traces exhibition. In 2016 Jenny also conceived the performance project It's time for transparency. The video of this work screened at the 2017 National Summit 'Setting the Record Straight for the Rights of the Child'.
Jennifer Kanary Nikolova
Jennifer Kanary Nikolova studied fashion design from 1994 to 1998 before graduating with a first version of roomforthoughts from the Fine Arts Department of the Maastricht Art Academy in 2000. She continued with a Tweede Fase programme (Masters) at the Sandberg Institute in Amsterdam in 2002 and  was invited to participate in the first experimental curating course initiated by the University of Amsterdam and the Sandberg Institute. Jennifer has curated and exhibited work in various art and science projects, such as Battle of the Universities, Kloone 4000 and Discovery 07. The artist was also involved in an artist-in- residence at the National Psychiatry Museum in Haarlem, Netherlands in 2007 to 2008.
George Khut
George Khut is an Australian artist, academic and interaction designer working across the fields of electronic art, interaction design and health at UNSW Australia, Art & Design. For the past twelve years he has been working with biofeedback technologies, creating intimate, body-focused interactive artwork experiences that re-frame experiences of embodiment and presence. In addition to presenting his work in galleries and museum, he has been developing new audiences for his work in exhibitions and research in hospitals, starting with the Heart Library in 2009, and more recently with the BrightHearts research project with Dr Angie Morrow, Staff Specialist in brain injury at The Childrens Hospital at Westmead, Kids Rehab.
Gretta Louw
Gretta Louw's artistic practice explores the potential of art as a means of investigating psychological phenomena, particularly in relation to new technologies and the internet. Her focus is on how new digital technologies are shaping contemporary experience. Louw was born in South Africa but grew up in Australia; she received her BA in 2001 from the University of Western Australia and Honours in Psychology in 2002, subsequently living in Japan and New Zealand before moving to Germany in 2007. In recent years she has participated in residencies in Australia, Israel, and the US, and her work has been exhibited widely – in New York, Berlin, London, Jakarta, and Tel Aviv, amongst others – including in a number of public institutions such as the Kunstmuseum Solothurn, Stadtgalerie Mannheim, and Kunstverein Ludwigshafen.
Miyarrka Media
Miyarrka Media formed in 2009 in the Yolngu community of Gapuwiyak in Australia's Northern Territory. Using mobile phones, digital collage and multiscreen installation, the collective experiments with form and content to create works that explicitly seek to generate social relationships through sensation, perception and imagination. Senior Yolngu leader, Paul Gurrumuruwuy, describes this ethos as dhäkayanawuy rom, an expression that loosely translates as 'the law of feeling'. Miyarrka Media makes work for both community and international audiences and has exhibited in Denmark, the US, Australia and Taiwan. The collective has also made several award-winning films including Ringtone (2014) and Manapanmirr, in Christmas Spirit (2012), and with co-founder and long-term collaborator, Jennifer Deger, is currently completing its first book, Phone & Spear: an Aboriginal art of connection, which lays out a vision for yuta anthropology or new anthropology.
Lauren Moffatt
Lauren Moffatt is an Australian artist working with immersive image making technologies. Following studies in art, cinema and media theory at the College of Fine
Arts (Sydney), Paris VIII University and Le Fresnoy Studio National she has developed a body of work pivoting around stereoscopic photography and informed by the history of cinema and broadcast technologies. She is interested in how the dimension of depth in digital moving image can be used as a storytelling device. Her works, often presented in multiple forms, explore contemporary subjectivity and connected bodies as well as the limits between virtual and physical worlds.
Kate Owens
Kate Owens is a writer and artist exploring mental health, memory and memoir. Owens graduated from the University of Wales, Newport with a BA in Film and Photography (1994). She has exhibited internationally and won a Rhubarb Rhubarb bursary with her series 28 Day Flower Diary which was published in The Sunday Times and shown at galleries Flowers East and Unseen. Owens completed an MA in Creative and Life Writing at Goldsmiths University (2014) writing a fictionalised memoir. Her artists' books are held in the Tate museum collection.
Erica Scourti
Erica Scourti was born in Athens, Greece and is now based in London. She works across different media including performance, text and video. Her work draws on personal experience to explore life, labour, love and gender in a fully mediated, networked world. Erica Scourti has recently exhibited and performed at Microscope Gallery, New York, HeK Basel, The Photographers' Gallery, Hayward Gallery, Munich Kunstverein, EMST Athens, ICA, David Roberts Art Foundation and Southbank Centre. Erica was in residence at Wysing Arts Centre for autumn 2015, and was a Near Now Fellow 2015/6.
SUPERFLEX
SUPERFLEX is an artist's group founded in 1993 by Jakob Fenger, Rasmus Nielsen and Bjornstjerne Christiansen. SUPERFLEX describe their project as tools. A tool is a model or proposal that can actively be used and further utilised and modified by the user.
Vanessa Bartlett
Vanessa Bartlett is a researcher and curator working between Australia and the UK. She is a PhD Candidate at UNSW Art & Design, where her research investigates connections between digital technologies and psychological distress through reflective curatorial practice. She is currently working on curatorial projects in Sydney and London, including an exhibition by UK artist Katriona Beales for Furtherfield Gallery. Vanessa's recent academic writing has been published by Bloomsbury Methuen, Taylor & Francis and in the proceedings of ISEA: International Symposium on Electronic Art in 2015 and 2017. She has just published her second edited book with Liverpool University Press.
Benjamin Koslowski
Benjamin Koslowski is an architect-trained designer, currently doing a PhD at the Royal College of Art in London with the Creative Exchange, an AHRC-funded Knowledge Exchange hub. His practice-led research under the title 'Framing Privacy' uses architectural representation to better understand interaction in digital spaces. Benjamin's current work includes exhibition design and installations, and from 2011 to 2013 he was a Research Associate at the Helen Hamlyn Centre for Design. In addition to his research, Benjamin teaches in Interiors at Middlesex University and in Graphic & Digital Design at the University of Greenwich.
Lily Hibberd 
Lily Hibberd is an artist and writer and DECRA Research Fellow at the National Institute of Experimental Arts, UNSW Sydney. She is creative director and co-founder with Bonney Djuric of Parramatta Female Factory Precinct Memory Project. Together they develop and facilitate creative projects with former residents of Parramatta Girls Home. Lily has curated several Memory Project exhibitions, including Living Traces (2016). Djuric and Hibberd and have co-authored numerous essays and articles. Lily Hibberd is the recipient of an Australian Research Council Discovery Early Career Researcher Award Scheme to research new digital media representations with the Parragirls.