28 Sep 2017
VENUE: AD Space, E Block, UNSW Art and Design, Paddington Campus
The Long Table is a dinner party set for twelve, where conversation is the only course.
About
Creating a democratic forum for public discussion, in creative response to conventional hierarchies of 'expert panels' and 'audience questions', this dynamic structure encourages free movement between speaking and observing. Anyone is welcome to take a seat at the table and offer their individual perspective on anxieties – personal, local and global.
The components are simple: a long table, chairs, a paper tablecloth, pens. Participants are welcome to scribble ideas or comments. There is an etiquette to be observed. There can be silence. There might be awkwardness. There can always be laughter.
Dozens of Long Tables have been held around the world; on topics as diverse as human rights, housing crises, democracy and gender.
The Long Table is open-source. Guidelines and a printable 'etiquette' can be downloaded from the Split Britches website.
Two Long Tables will be convened by Lois Weaver during the festival:
Tuesday 26 September: Talking About Lived Experience (ticketed)
Recommended for those with a vested interest in mental health and the voice of experience.
Thursday 28 September: The State of the World (non-ticketed)
Open to anyone who wishes to drop in and discuss the big issues of the day.
Supported by the Wellcome Trust.
Artist Biography
Lois Weaver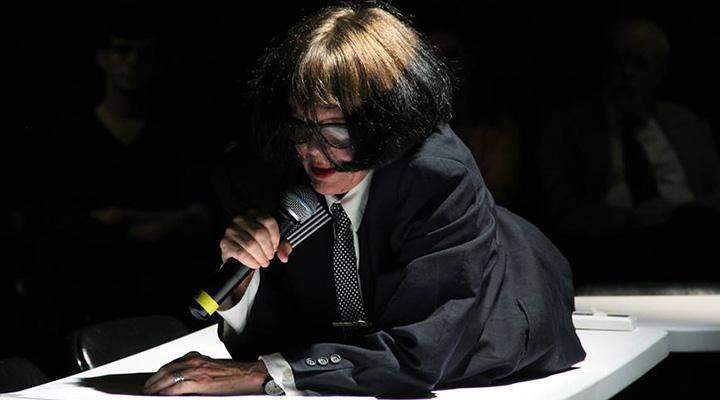 Lois weaver is an artist, activist and part time professor of Contemporary Performance at Queen Mary, University of London. She was co-founder of Spiderwoman Theater, WOW and Artistic Director of Gay Sweatshop in London. She has been a writer, director and performer with Peggy Shaw and Split Britches since 1980.
Recent work includes: Miss America (2008); Lost Lounge (2009) and RUFF (2012). Split Britches' collection of scripts, Split Britches Feminist Performance/Lesbian Practice, edited by Sue Ellen Case, won the 1997 Lambda Literary Award for Drama. In 2012, Split Britches was presented with the Edwin Booth Award by City University of New York in honor of their outstanding contribution to the New York City/American Theater and Performance Community. Lois was named a Senior Fellow by the Hemispheric Institute of Performance and Politics in 2014. She is a 2014 Guggenheim Fellow and a Wellcome Trust Engaging Science Fellow for 2016-18.