4 Oct 2017
VENUE: Art Gallery of NSW
Have you ever frozen on stage or during a presentation, felt tongue tied or panicked, blown your big chance, crashed and burned when you'd hoped to star? Join four accomplished performers who reveal their inner turmoil.
About
Hosted by Fenella Kernebone, Performance Anxiety promises to be a deep, funny and awkward conversation with performers Justin Shoulder and Zoë Coombs Marr; choreographer and Big Anxiety Official Festival poet, Vicki Van Hout; and artist Tina Havelock Stevens, whose video work for The Big Anxiety, Beta Shockers features well known musicians with stage fright.
This discussion (with short performance pieces) by presenters in the public eye will resonate with anyone who experiences anxiety and stress in everyday life — whether at school or work, preparing for HSC/exams, presentations or interviews.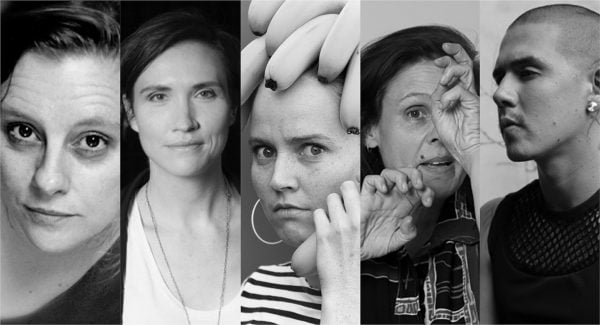 Presented with Art Gallery of NSW.
Artist Biography
Fenella Kernebone
Fenella Kernebone is the Head of Curation for TedxSydney, responsible for leading the programming for what has become one of the largest Tedx events in the world as well as TedxSydney Salons. Fenella manages a team of over 20 curators and producers dedicated to spreading great ideas and strong stories in fields including science, technology, arts, business and design. Fenella is also a noted television and radio presenter and producer, MC, interviewer and writer with a distinguished career working across arts, music, design and culture. Her hosting roles have included Radio National's By Design, The Sound Lab on Triple J, Art Nation and Sunday Arts on ABC TV and The Movie Show on SBS TV.
Justin Shoulder
Justin Shoulder is an interdisciplinary artist and events producer particularly known for his spectacular performances that developed within the underground context of Sydney's queer performance scene. Shoulder's performances are based around his highly developed Fantastic Creatures, invented beings and alter-egos based on queered ancestral mythologies. These creatures are embodied through hand crafted costumes and prosthesis and animated by their own gestural languages. Shoulder uses his body and craft to forge connections between queer, migrant, spiritual and intercultural experiences. He has performed and exhibited internationally, recent highlights include: Ex Nilalang for The Asia Pacific Triennial at Queensland Art Gallery / Gallery of Modern Art 2015-16, Brisbane and Carrion for New Romance: art and the posthuman, MCA Sydney 2016.
Tina Havelock Stevens
Tina Havelock Stevens is a Sydney based artist who works predominantly in video, music, sound, experimental documentary, and performance. Tina has played in a number of post-punk bands as a drummer. One of her performance projects, as moniker 'White Drummer', involves spontaneous, high-energy and durational performances. Using rock'n'roll drum-kits, the work unfolds as a spectacle that responds and tunes into the frequencies of a specific site and place. For The Big Anxiety, she has created Beta Shockers, a video work about performance anxiety. Recent exhibitions include Double A – Side, Darren Knight Gallery, Sydney, 2017; Contagious Magic, Galerie Pom Pom, Sydney, 2017 ; Techstyle, MILL 6 Foundation, Hong Kong, 2016; and THUNDERHEAD at Performance Space, Carriageworks, Sydney, and DARK MOFO, MONA, Hobart, 2016.
Vicki Van Hout
Vicki Van Hout of Wiradjuri and Dutch heritage, born In Wollongong and brought up in Dapto. Van Hout is a graduate of NAISDA Dance College and the Martha Graham School of Contemporary Dance NYC and has performed for both major Indigenous dance companies Bangarra Dance Theatre and AIDT. As a performance maker working across multiple mediums including choreography, film, theatre and set design her most notable works include Briwyant (Performance Space/Carriageworks 2010/12) which utilized interactive technologies to represent the unseen ancestral forces that are animated through painting, dance song and storytelling, and Long Grass (2015) which premiered at Sydney Festival. Vicki has been collaborating with digital media artist Marian Abboud for ten years and together they continue to create cross cultural performances. Their short film installation works Behind the Zig- Zag (2015) and Redfern As Refuge (2016) have been presented by Carriageworks. They will premiere their new collaboration The Petition: To Never Die, for The Big Anxiety 2017.
Zoë Coombs Marr
Zoë Coombs Marr is a writer and comedian. Her latest show Trigger Warning won the 2016 Melbourne International Comedy Festival Barry Award for best show, the Golden Gibbo, was nominated for a Helpmann Award, The Victorian premier's Literary Award, and Edinburgh Fringe Best Comedy. In 2012, her show And That Was The Summer That Changed My Life was awarded the Philip Parsons Young Playwright Award and nominated for Best Newcomer at the Melbourne International Comedy Festival. Other works include Is This Thing On?, Gone Off, Dave, and the trans-continental Wild Bore. Zoe is one third of performance company post, is occasionally on the telly, and once won the National Slam Poetry Championships under dubious circumstances.