20 Sep 2017 — 11 Nov 2017
10:00 am — 5:00 pm
VENUE: Ground Floor, UNSW Galleries, Art & Design, Paddington Campus
Snoösphere is a responsive sensory environment to roam, touch and explore.  Created by Lull Studios, employing autistic artists' insight into hyper-sensitivity, Snoösphere engages all of the senses using playful spatial and intelligent design.
About
noösphere (noun) a coming stage of evolutionary development governed by consciousness, the mind, and the perceptual interactions of all life
snoösphere (innovation) a sensory futureland
Snoösphere is created by Lull Studios and collaborators, including autistic artists, who have a unique, enhanced sense of how spaces perform sensorially and energetically. The installation stimulates the sensorium in myriad inventive ways. Everything can be touched, and objects and surfaces respond intelligently to curiosity.
Snoösphere is inspired by Dutch snoezelen, which are stimulation and relaxation environments used in care and rehabilitation contexts. We bring snoezelen up to date for a digital future when we all need tools and spaces for mitigating sensory anxiety.
A landmark project arising from research and workshops with autistic young people and adults in Sydney and Singapore, Snoösphere offers increased participation for perceptually diverse audiences. Snoösphere pushes the boundaries of engagement and arts access to gain insight into neuro-diversity, as well as to explore perceptual experiences with all audiences.
Access: autistic-led tours available.
Festival Commission.
This project has been assisted by the Australian Government through the Australia Council, its arts funding and advisory body.
Additional support: Superlight and RMIT University.
Snoösphere warmly thanks our Autism and the Senses workshop participants Theodore Eu, Mathew Gilmore, Husnah Jamaludin, Rachel Hillary Kotow, Timothy Ng, Eric, and all other participants who chose to remain anonymous.
Artist Biography
Lull Studios
Lull Studios (Japan/Australia) produces designs, media, poetry and music for performance, screen and urban environments. Their projects span art and technology, new media embedded space, and interactive design. Principal artists Lindsay Webb and Elena Knox are based in Tokyo, where Elena is a research fellow at the Department of Intermedia Art and Science, Waseda University, focusing on robot embodiment and biomimicry.
Elena was awarded her PhD (media art) in 2015. Her practice is transdisciplinary, and has been funded by the Japan Society for the Promotion of Science, Australian Embassy Berlin, and the Australia Council's Theatre, Music, New Media, Literature, and Emerging and Experimental Arts boards. Lindsay researches aural and haptic phenomena in the built environment, and creates electronic renderings of synaesthesia. He is an architect, urbanist, sound artist, and designer educated at Städelschule: Academy of Art, Frankfurt.
Lull Studios' artwork has been presented throughout Europe, the US and Asia, including on the 108-storey façade of Hong Kong's International Commerce Centre. 2017 presentations include Cairo Video Festival, Athens Digital Arts Festival and Kochi-Muzeris Biennale (Video Vortex). Commissions include Telstra and NSW Department of Justice, and an upcoming work on artificial neural networks for Goethe Institut Seoul/Beijing. Nominations include Green Room Awards (Melbourne), Undoing the Novel (USA), and Australian Art Music Awards.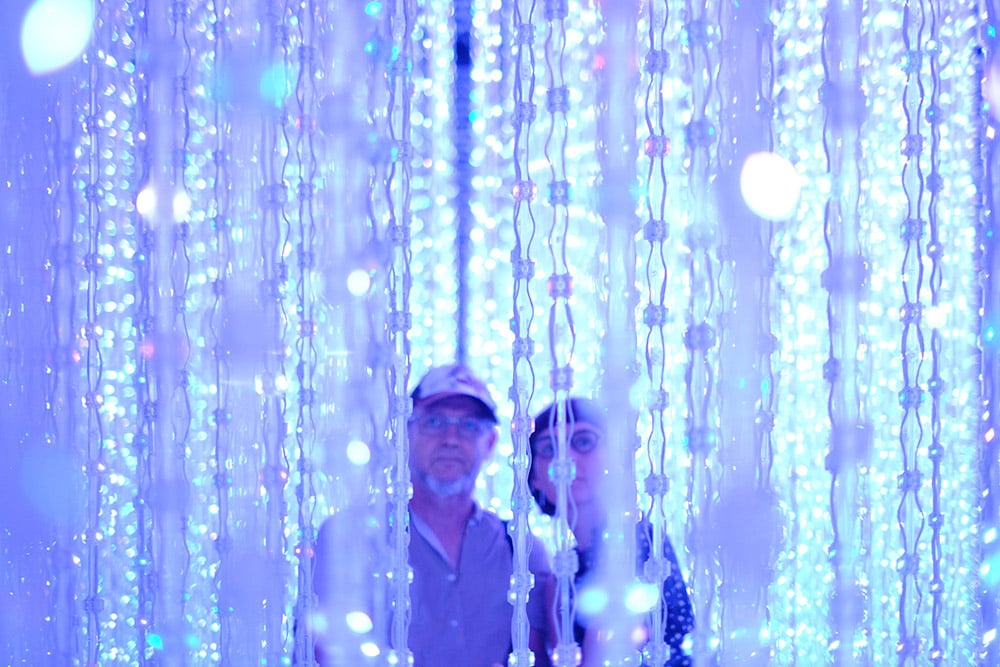 Raewyn Turner and Brian Harris
Raewyn Turner and Brian Harris' (New Zealand) award-winning artwork is concerned with cross-sensory perception and the uncharted territories of the senses. Raewyn has worked with aroma and olfaction since 1999, and in 2011 was recipient of a Fulbright grant to work at Monell Chemical Senses Center, Philadelphia. Raewyn and Brian's work has shown at Museum of Contemporary Art, Los Angeles; Pompidou Center, Paris; Parque de las Ciencias, Granada; 11th Prague Quadrennial of Scenography and Theatre Architecture; and Te Papa Museum, Wellington.
Ed Leckie
Ed Leckie is an electronics engineer, video artist, music producer and co-developer of the LZX Visionary Analogue Video Synthesizer. His video artwork has been widely exhibited, from the Hyperlink Festival at Tate Modern London, to Sydney's Carriageworks, SerialSpace and 107 Projects. With Julian Higginson he is Bleepin' J Squawkins, an analogue electro duo producing and performing acid house. 
Dawn-joy Leong
Dawn-joy Leong (Singapore) is an autistic artist-researcher presenting autism as parallel embodiment, with sensory-cognitive idiosyncrasy as the nucleus of her research, and an artistic practice of immersive mind-body experiences via music, visual art, photography, narrative, poetry and performance. 
Marty Jay
Marty Jay constructs pneumatic artworks, and costuming, set and props for TV, film, theatre and parties. His works are iconic in the Sydney underground and include Fishman, Father Goose and the Trash Temple Cult, and Biffo's Blow-up Bonanza. Marty's maker skills are sought by NetFlix and Opera Australia.
Frank Feltham
Frank Feltham is a designer and educator with an interest in the agency of the moving body as a means of expression through interactive and sound responsive digital technologies. He is a lecturer at RMIT University Melbourne, and a PhD candidate at the Design Lab, University of Sydney.
James Curtis
James Curtis is a sound and interaction designer and a graduate of RMIT University, Melbourne. Drawing on ten years of experience in electronic music production and interaction design, James creates installation works exploring the multidimensional properties of interactive sound.
Jonathon Bolitho
Jonathon Bolitho is a media artist working as part of Sydney studio Hakea with interactive technologies for tactile and engaging experiences. Having exhibited large-scale interactive works for VIVID Sydney and other events, Hakea seek to create meaningful interactions in public space. They often take inspiration from the natural world, drawing parallels between seemingly disparate phenomena in playful and inquisitive ways.
Kristina Mah
Kristina Mah is a digital artist and a karate champion. She has won a world title for her weight class, and gold medals in the US Open and the Commonwealth Championships. Kristina is completing a PhD at the University of Sydney. Her research takes an eastern epistemological approach to virtue and morality in human–computer interaction.
Julian Higginson
Julian Higginson is a product developer with a major focus on 'Internet of Things' electronics. He has a long history of designing goods in the sensing, data logging and telemetry space. He is experienced in analogue and digital hardware, firmware development, wired and wireless radio links, internet gateway devices, circuit design and bending, and all sorts of other fun things.