8 Oct 2022
FREE EVENT
342 High St
Northcote 3070
TIME
Saturday 8 October 2022, 2pm – 5pm
The Tactile & Tabulations exhibition will be running alongside Poetic Flock an outdoor event in the JOLTED Gallery Courtyard. 
This project has been supported by the Victorian Government through Creative Victoria. This project has been assisted by the Australian Government through the Australia Council, its arts funding and advisory body. 
About
This exhibition combines a range of retrospective and new works from each of the artists in the exhibition. Louise Hunter's work recurringly explores themes around flowers, nature and abstraction that are then expressed through highly tactile visual art methods. Jay Euesden's work often tabulates collections of domestic and urban items. Jay is a visual collector, such that he may bring organisation to the often-chaotic world around him. Alister Karl's work stems from his heightened drawing discipline, where the medium of drawing is expanded in exploratory ways, often incorporating other creative mediums. 
Image: Whale Explosion (2019), Alister Karl. 
Iron (2019), Jay Euesden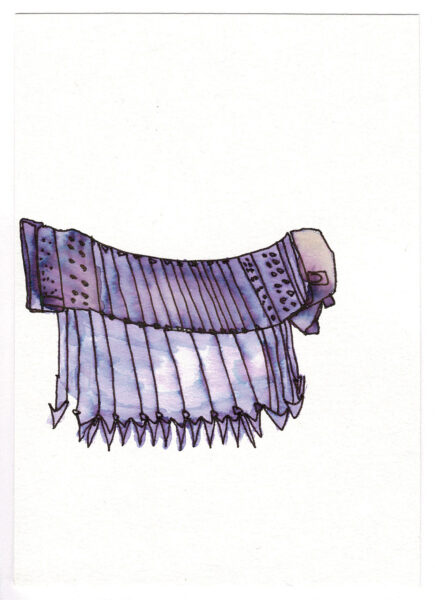 Accordion (2019), Jay Euesden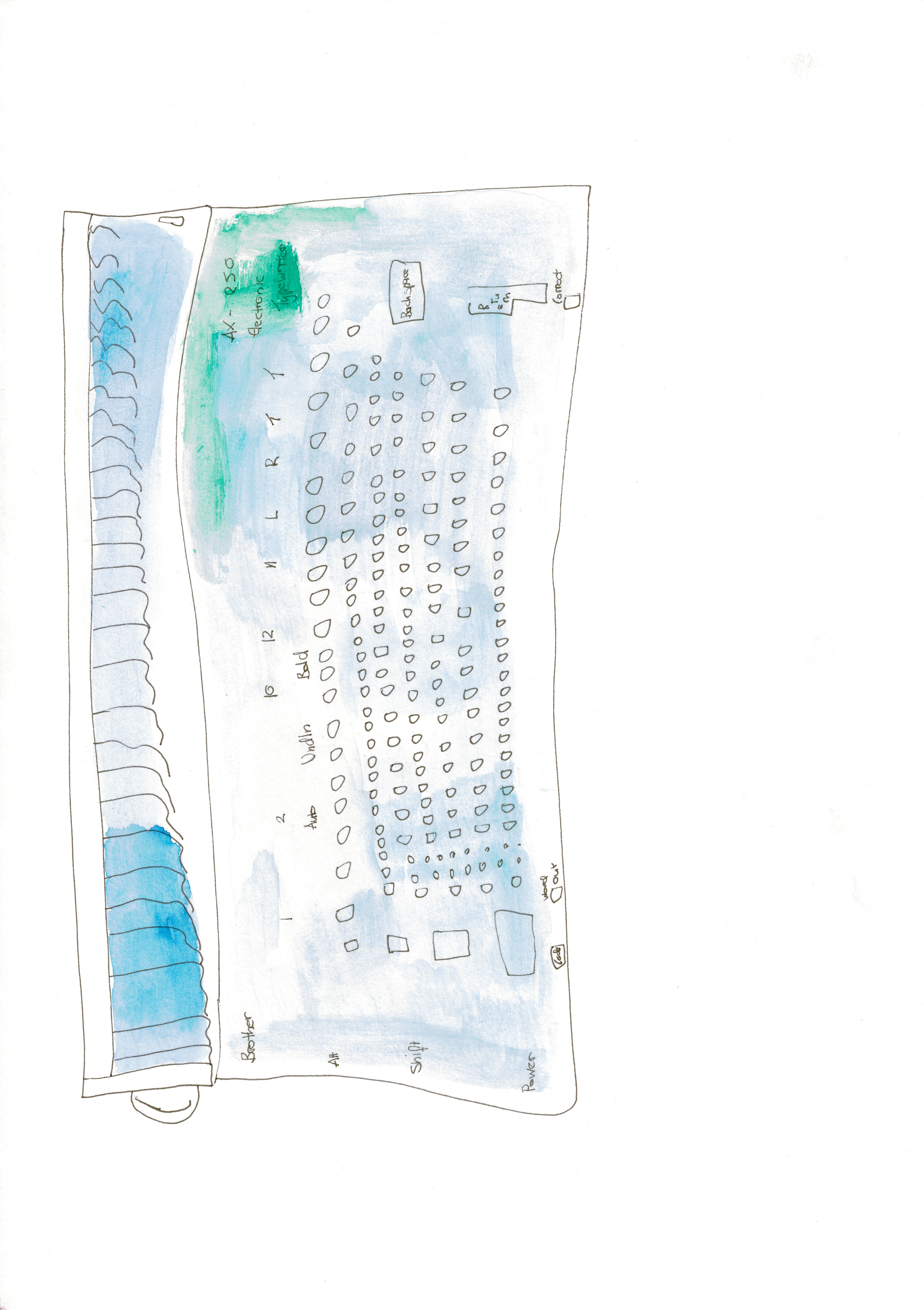 Typewriter (2019), Jay Euesden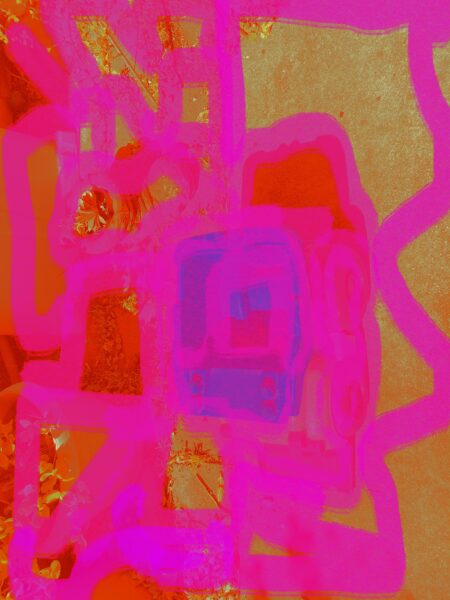 Pink and Gold (2020), Louise Hunter 
Artist Biography
Jay Euesden – Visual Artist
Along with Robyn McGrath and Kathryn Sutherland, Euesden is a founding member of The Amplified Elephants. Euesden's practice is focused on minimalist sonic patterns, usually realising these ideas through synthesisers. Euesden is a founding member of the Sonic Adventurers Collective – a gallery based visual art and sound collective. 
In 2022 Euesden will premiere a range of live projects with The Amplified Elephants including DEEP CREATURES, which was released as an album on Heavy Machinery Records (2021) and HAGOROMO featuring Japanese Noh singer Ryoko Aoki. Euesden has premiered new video, audio and 2D works with the Sonic Adventurers Collective for THE RED LINE exhibition at Wangaratta Art Gallery. 
Having performed in nearly all The Amplified Elephants projects since 2007, a career highlight for Euesden was the show THE NIS (2009, 2013), which involved performing on robotic music instruments and in collaboration with the BOLT Ensemble (a chamber orchestra). In that show, Euesden performed solo synthesiser sequences against an orchestral backdrop. In 2015, Jay toured to the Bendigo International Festival of Exploratory Music to perform SELECT NATURALIS, a show featuring the Duckworth Hullick Duo's Resonance Table touch screen musical interface. The show was again presented in 2018 at RMIT University. Most recently, in 2018 Euesden performed SELF SEEKERS for the Festival of Live Art and then remounted the work at the Footscray Community Arts Centre in 2019.  
Jay is mentored by Alister Karl and James Hullick. 
Alister Karl – Visual Artist, Artist Mentor.
Alister Karl has been a practising artist for more than 20 years, and is an experienced teacher, curator and arts manager. He works in a range of media and disciplines, and has exhibited extensively in Victoria and Queensland. 
Alister worked at Footscray Community Arts Centre for 8 years until 2017, teaching visual arts and photography. There, he worked for a range of programs including the disability-specific program Art Life, the children's holiday program and the partnership outreach program with the Royal Children's Hospital. 
Alister joined JOLT Arts as lead support worker in 2019, and facilitates a number of sonic arts and music programs at JOLT, working closely with JOLT Director James Hullick. 
Alister is a founding committee member of the artist run initiative, Brunswick Arts Space, and has been heavily involved over its 12-year history in curation, management and public relations positions.
Alister holds a Bachelor of Fine Arts from Monash University and a Diploma of Visual Arts from Southern Queensland Institute of TAFE.
Louise Hunter – Visual Artist
Louise has a background in visual arts, and has recently expanded her creative practice to include the medium of sound. Louise has actively shown work at a range of art galleries in Melbourne, including Testing Grounds, Footscray Community Arts Centre, Brunswick Arts, The Window at The Edinburgh Castle and elsewhere over a 10-year period. Louise's practice focuses on tactile, hands-on art-making, which has often been performative in nature, and influenced by craft techniques, such as weaving. Louise is mentored by James Hullick in sound and Alister Karl in visual art through JOLT Arts. 
History
Both Hunter and Euesden are emerging visual artists who have been mentored by Alister Karl through Hullick Studios' and JOLT Arts' A.M.P. program. A.M.P. provides one-on-one mentoring, career pathways and sizeable commissions for artists in the NDIS sector. Alister Karl is an established artist who has created works spanning a range of mediums from drawing to art installation. 
How to Engage
It's free entry – just show up. 
All audiences are encouraged to enter via the back of the building: There is a disability ramp and disability parking at the back of the building. The front of the building is not easily accessed by people with ambulation needs and wheel chairs. This is because the building is a heritage site. Within the building the access is in place so that patrons can reach the stage and audience by wheelchair or if they have ambulation requirements. 
Installation / Project Team
Louise Hunter, Jay Euesden and Alister Karl