9 Nov 2019
The Visit – Viewing of interactive media artwork
Sat November 9th 12:30-4:45pm
UNSW Galleries, UNSW Art & Design, Paddington
The Razz – Panel Discussion
Sat November 9th 1:30-3pm
EG02, E Block, UNSW Art & Design
Becoming Colleen – Viewing
November 9th 3pm (58mins)
Q&A with Ian Thomson Writer, Director and Producer 4-4:45pm
EG02, E Block, Art & Design, UNSW
Venue: UNSW Art & Design, Lecture
Theatre EG02
VENUE: UNSW Art & Design, Lecture Theatre EG02
An afternoon of events challenging stereotypes of ageing.
About
The RAZZ (1.30pm-2:45pm) – Does anyone get "old" anymore? Join speakers challenging the conservatism and conformity once associated with ageing.
Caroline Baum will explore, with Sandra Pankhurst, Elaine Paton, Lloyd Grosse (DJ Buck Naked) and Robyn Kennedy experiences of being transgender, HIV+, homeless, feminist, LGBTQI+, engaging in diverse sexual practices in older age (including dungeon masters/mistresses, and pain for sexual pleasure), and all the complexities of ageing in the 21st Century.
The ageing population have stopped conforming. Those who have lived through 60s counterculture, through punk, disco, new romantic and rave culture have always had their own music, their own identity and want to be heard. Will they, as Dylan Thomas' famous poem suggests "… burn and rave at close of day"?
The Razz is followed by a screening of the documentary Becoming Colleen (3pm-4pm) with Q&A with Director Ian W Thomson, hosted by journalist Monica Attard (4pm-4:45pm).
Come early for a viewing of The Empathy Clinic and the interactive artwork The Visit. Guided tours between 12pm-1.30pm. The Razz panel discussion is Auslan interpreted.
All events free, including refreshments. Email n.ginnivan@unsw.edu.au for RSVP for catering purposes.
A production of the Ageing Futures Institute at UNSW.
Artist Biography
Caroline Baum - Moderator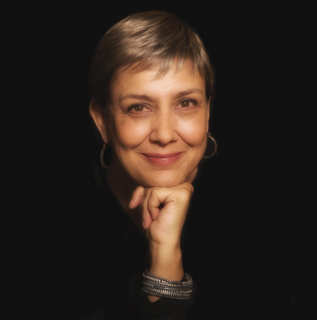 Caroline Baum is a writer, journalist, former broadcaster, occasional moderator, curator and photographer, and author of ONLY: A Singular memoir. She has an ongoing interest in ageing and representations of ageing and will moderate the Razz panel discussion. Caroline is a carer, and has written about age-related issues for the Guardian and hosted the COTA 2019 policy forum on ageism and relationships Australia 2018 forum on loneliness.
Sandra Pankhurst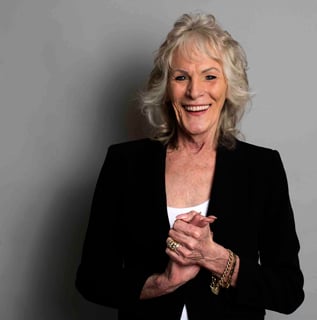 Trauma Cleaner, Activist
Sandra has lived many lives. Sandra (then "Peter") was adopted into an abusive family, relegated to a backyard bungalow, malnourished, excluded from family-life and escaped home in his teens. Marrying young, he realised it was not possible to continue his life as a husband and father. He left to become Sandra, a drag queen, sex worker and undertook gender reassignment in the early 80s. She became Australia's first female funeral director and CEO of her own business trauma cleaning, celebrated in the book The Trauma Cleaner. An active advocate for aged care rights, disability, mental health, Sandra is the ageing ambassador for The Big Anxiety.
Elaine Paton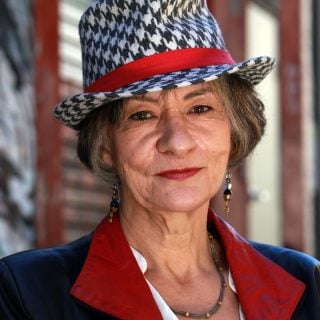 Theatre Director, Writer, Teacher, Mental Health Activist
Elaine Paton is a conceptual theatre director, writer, performer and teacher, whose work lives at the intersection of Arts and Mental Health. She challenges the stigma and shame of being mentally unwell by creating autobiographical theatre productions.  Her
show Moment(o)s toured mental health festivals and conferences in the UK, to critical acclaim.
Elaine has spent her life trying not to fall between the cracks, and now finds herself in the "ageing sector".  She's in a bit of a RAZZ about this, raving and raging as she negotiates the next phase of life. It feels like society is creeping up on her and trying to throw a raincoat on her before there is rain. Having always lived on the margins, Elaine now finds herself perilously close to joining the ranks of the homeless. Her next project, "The Girl Inside Me" examines this state, and as she looks in the mirror and sees another woman – an older version of her younger self – she tries to understand what happened to The Girl.
Lloyd Grosse (aka DJ Buck-naked)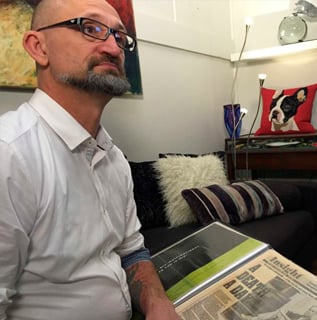 HIV activist, turntablist, noisemaker, communication professional
Lloyd Grosse (formerly 'DJ Buck-Naked'), was given three years to live back in the late 80s when he was first diagnosed with HIV.  Lloyd has worked as an advocate, including at the Bobby Goldsmith Foundation, for people living with HIV and has experienced loss of friends and clients who died of advanced HIV. He never imagined that he would live to middle or older age and to see the end of AIDS. He advocates for an approach to ageing that recognises the hard-won rights of older people from diverse sexual, gender, sexuality and social backgrounds who have spent their lives fighting prejudice and are not afraid to agitate against discrimination and push back on issues of personal and social justice.
Robyn Kennedy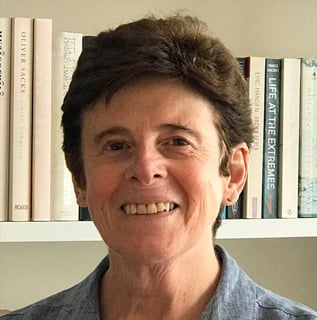 Activist, 78er, Member of Committee for World pride 2023
Robyn Kennedy has a long history of involvement in LGBTIQ activism and broader social justice and human rights issues. Robyn's career has spanned government, not for profit and corporate sectors where she has provided advisory services aimed at addressing social inequity and disadvantage. Robyn is a frequent international speaker on LGBTQI rights issues with a focus on driving grassroots action in preference to diplomatic "solutions". Robyn's contribution to advancing the rights of LGBTQI communities was recognised in 2018 when she was awarded ACON's prestigious Community Hero Award. Robyn reflects on the impact of ageing on social non-conformists and questions the nature of "fixes" for this target group.
The Visit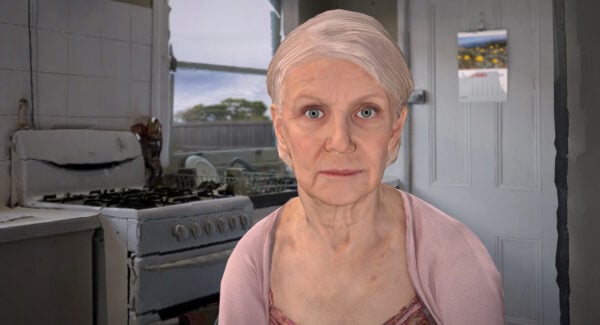 The Visit, an interactive media artwork created with women with dementia, exploring their experiences of the way in which people perceive and interact with those with a diagnosis. We meet 'Viv' as she talks about her life, her health and her concerns. The Visit is on show at THE EMPATHY CLINIC throughout the festival with special engagement events for seniors, carers and people living with dementia.
Viewing time: November 9th 12:30-4.45pm
Venue: UNSW Galleries, Art & Design, UNSW 
Becoming Colleen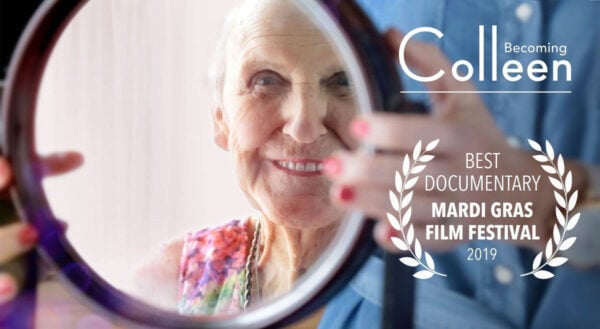 Becoming Colleen.
Becoming Colleen (Winner of the Audience Award at Mardi Gras Film Festival – Written, Directed and Produced by Ian Thomson) not just a story of ageing it is the story of a love shared between two people that goes beyond gender, and the simple pleasures in finding the perfect pair of shoes. Colleen, a transgender woman shows us that at 82, you are never too old to become the person you always wanted to be, and that life is a series of events that fold into the transitions we make as we age.
Viewing time: November 9th 3pm (58mins)
Q&A with Ian Thomson Writer, Director and Producer 4-4:45pm
Venue: UNSW Art & Design, Lecture
Theatre EGO2