4 Oct 2022
FREE Event
Storey Hall
Seminar Room
2-4PM
Tickets HERE
Prof Lynn Froggett (UCLan, UK), pioneer of the visual matrix method, leads a session using this psychosocial technique to evaluate the impact on viewers of select fEEL Lab works in the exhibition, Archives of Feeling
About
The visual matrix is a method for researching shared experience, stimulated by sensory material. It is led by imagery, visualization and affect, which in the matrix take precedence over discourse. The method enables the symbolization of imaginative and emotional material, which might not otherwise be articulated and allows "unthought" dimensions of experience to emerge into consciousness in a participatory setting. 
Participants are invited to view two works – Big Grief, Big Horror and We're just gonna call it all BPD — prior to the session (ideally at 1pm) in RMIT gallery, next door to the venue.
In the visual matrix – a group setting –  you will be invited to associate freely to the images, feelings and sensory impressions that the two works evoke in them. The imagery that the group produces in the matrix is a reflection of what the works evoke in the people who take part, rather than what they think about them. The matrix is a facilitated open space for all, that lasts up to an hour. No specialist knowledge or experience is required. It is followed by a discussion on what has unfolded for the participants, the nature and significance of the imagery they have produced and what is conveys of the artworks and their meaning and impact.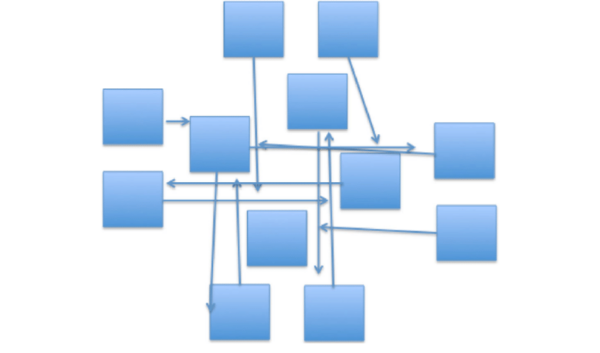 The snowflake seating arrangement in a visual matrix (arrows indicate the potential, indirect gaze of the participant).